Shane Beamer makes unbelievable admission after win over Auburn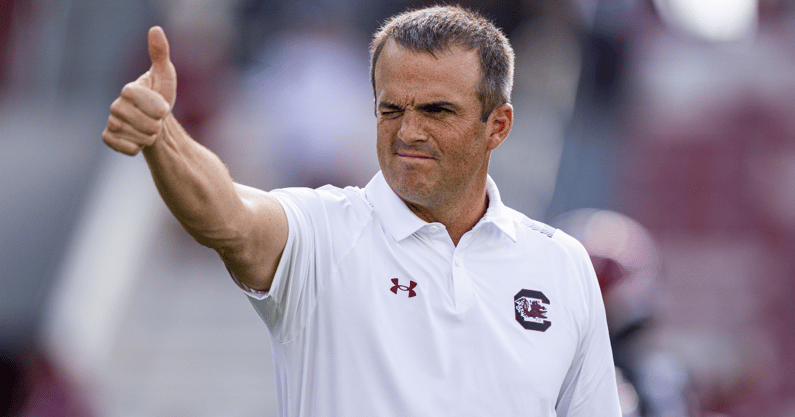 South Carolina football coach Shane Beamer had an unusual strategy en route to a 21-17 victory against Auburn on Saturday. His team made a major adjustment in the second half, storming back to outscore the Tigers 21-3 behind three touchdowns from quarterback Jason Brown.
Surprisingly, an elated Beamer admitted postgame that the Gamecocks' playbook wasn't very large for their 14-point comeback.
"We're down 14-0 and it wasn't looking pretty," the coach said. "Nobody panicked and we came right out in the second half. We talk about this being big boy SEC football. We literally lined up in the second half and ran the same two plays over and over and over again. That's a heck of a team we just beat. Man, I'm so happy for these guys. I don't know what our fans had plans for in December, but we're going bowling somewhere."
Beamer, the son of legendary Virginia Tech coach Frank Beamer, is in his first year guiding the Gamecocks. Shane Beamer was an associate head coach for the Hokies from 2011 until his father's retirement in 2015. He held that same title at Oklahoma under Lincoln Riley from 2018 to 2020.
With the win against Auburn on Saturday, the Gamecocks will play in their first bowl game since 2018. It is an impressive feat for Beamer in his first season, and he has certainly began to earn the respect of the South Carolina fan base.
The Gamecocks have now won four consecutive home games, with their lone loss at William-Brice Stadium coming to Kentucky. That game is now a distant memory as they have plenty room to celebrate this year.
South Carolina didn't earn Saturday's win without controversy, however. With just 2:11 remaining in the game, South Carolina's Kai Kroeger punted a 36-yard kick in the direction of Auburn's Jaylin Simpson. Originally, officials ruled the ball came close to the cornerback's thigh, but it did not hit him. After reviewing the play, they overturned the call, effectively ending the game.
South Carolina ran out the clock, held on to win 21-17, and notched their third conference win of the season.
Shane Beamer and the Gamecocks will ride the momentum of their Auburn victory into a rivalry game against Clemson in Week 13. They'll look to continue to defend home field in that one against a Clemson team in the middle of a four-game winning streak.
Kickoff between the Gamecocks and Clemson is set for 7:30 p.m. next Saturday in Columbia.