Why Spencer Rattler chose South Carolina after Oklahoma transfer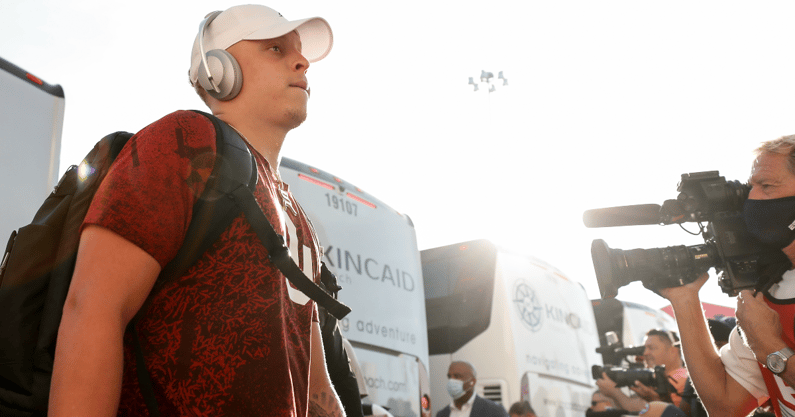 Spencer Rattler is going from Norman, Oklahoma, to Columbia, South Carolina, for the 2022 football season. The former five-star recruit announced his plans Monday night that he is transferring into the SEC East.
How did the 6-6 Gamecocks pull off one of the biggest additions so far this offseason? A little familiarity and a lot of trust.
After being jilted by the Sooners in favor of Caleb Williams, Rattler is reconnecting with Shane Beamer. The Gamecocks coach was on the Oklahoma staff until his hiring at South Carolina in 2021.
Though Spencer Rattler hasn't commented on his decision yet, his long-time quarterback trainer Mike Giovando shared his thoughts with the Charlotte Observer.
"That familiarity definitely helped out," Giovando said. "It helped to have that little bit of comfort with the guy that you have the potential to be playing for. You kind of know what (Beamer) is all about.
"The lingo, the plays, the schemes, everything about what Coach Satterfield does is based on the highest level of NFL football," Giovando continued. "I think Spence thought that was important as well. (He wanted) to get into a scheme and in a system that's going to help (him) translate to the next level when (he) gets that opportunity."
Spencer Rattler finds new home
It didn't take long for Spencer Rattler to pick his next program after entering the portal at the end of the regular season.
"I think once that season got over with he was like, 'OK, let's go. Time to move on and let's write a new chapter. Let's start the story over and let's figure out what's going to be best,'" Giovando said. "And that's where he's at right now."
After starting the 2021 season as the favorite for the Heisman Trophy, Rattler's year took a downward spiral.
After Caleb Williams led Oklahoma to a comeback victory in the Red River Shootout, Rattler took over as the backup. He finished with 1,483 passing yards for 11 touchdowns and five interceptions.
"(Spencer) wanted to play," Giovando said. "He felt like he should have been playing. But he also knew, 'You know what, if this is the way it's gonna be, I'm going to finish this thing out and be here for the team if they need me. I'm gonna do my part and I'm gonna persevere through this. Then once this is all said and done, we get through the season, we'll sit down and talk about — Hey, what's the next best move?'"
With plenty left to give at the collegiate level, Spencer Rattler can help turn South Carolina around with Shane Beamer. For large parts of the season, the Gamecocks started Zeb Noland, a graduate assistant who was activated to the playing roster midway through fall camp. The Gamecocks are now preparing to play North Carolina in the Duke's Mayo Bowl in Charlotte.