5-star QB Nico Iamaleava discusses Tennessee visit, high school season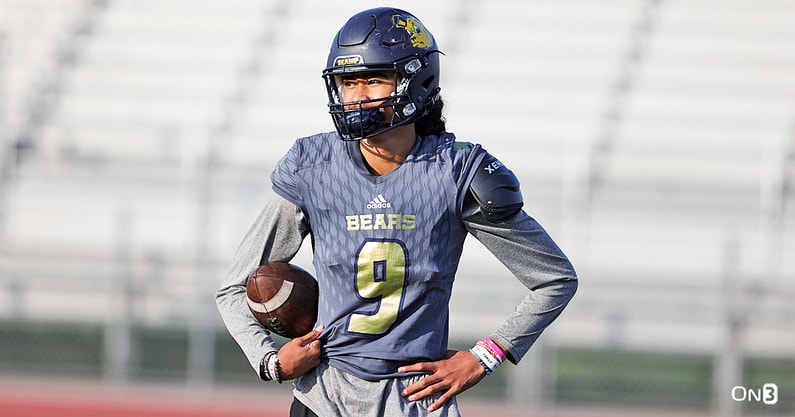 Long Beach (Calif.) Downey five-star quarterback and Tennessee commit Nico Iamaleava needed only one half of play to throw for five touchdowns in a 54-7 victory last Friday over Lakewood (Calif.) Mayfair.
It was a dominant performance that bookended a great seven-day stretch for Iamaleava that started with him watching the Volunteers beat Florida in front of a next-level atmosphere in Knoxville, Tenn.
Volquest's Austin Price caught up with Iamaleava after the victory Friday to discuss the five-star's performance this season, playing in front of Josh Heupel and his visit to Rocky Top the previous weekend.
Iamaleava had been to only one game at Neyland Stadium previously — last November against Vanderbilt. He was blown away by the fans at that game, which made the two weekends ago stand out even more.
"The difference was there was more fans," Iamaleava told Volquest. "I think it was sold out. So that was definitely a difference. I think the Vanderbilt game was Thanksgiving break. It was still rocking that game. The difference was more fans and that checkerboard out there was amazing."
Tennessee won the game. 38-33, in front of over 101,000 fans.
Volunteers quarterback Hendon Hooker had his best game of the season so far against the Gators. He threw for 349 yards and added another 112 on the ground.
"I was watching Hendon out there and I could see myself out there playing in that for sure," Iamaleava said. "He's doing his thing this year, man. Heisman candidate, and I can't wait to see what else he does this season."
Iamaleava plans to be back at Tennessee at least two more times this season.
But he also may make another trip as well.
"I'll go back to Tennessee for the Bama game, and I'll probably be back out there for the Kentucky game," he said. "I was gonna try and make the LSU game but I don't know about that. We'll see. Other than that, we'll see."
Josh Heupel, Joey Halze like family to Nico Iamaleava
Nico Iamaleava had some special fans in the crowd Friday night in the form of Tennessee head coach Josh Heupel and quarterbacks coach Joey Halze.
It clearly meant something to Iamaleava that the two coaches would come watch him during the team's bye week.
"I look at coach Joe, coach Heupel like family," Iamaleava said. "It's just Iike playing in front of my family really for me."
Iamaleava's performance Friday was a great one with the five touchdown throws giving him a whole half of rest due to the blowout.
But the five-star quarterback still saw plenty of room for improvement.
"I did ight," he said. "I missed a couple throws. I think I missed like three throws but that's what practice is for. We're still progressing as the season goes. I'm excited man. I think this win was definitely a cleanup win. We had a lot of cleaning up in practice. For us to show what we were working on practices was a good thing."
Iamaleava has four more games in the regular season before starting the state playoffs. He will then head off to Tennessee soon enough as an early enrollee.
But with a 5-1 record and at least five more games to play, Iamaleava is doing his best to live in the moment and leave with some trophies.
"It's going fast, it's going pretty fast man," Iamaleava said. "If you think about, I'm out of here in a couple of months so I'm just enjoying my senior year, enjoying the high school fans and and all that goes with this and my teammates for sure. This will be my last year with my little brother and he's on his own after this."