Rick Barnes on importance of breakout performance from Zakai Zeigler with others out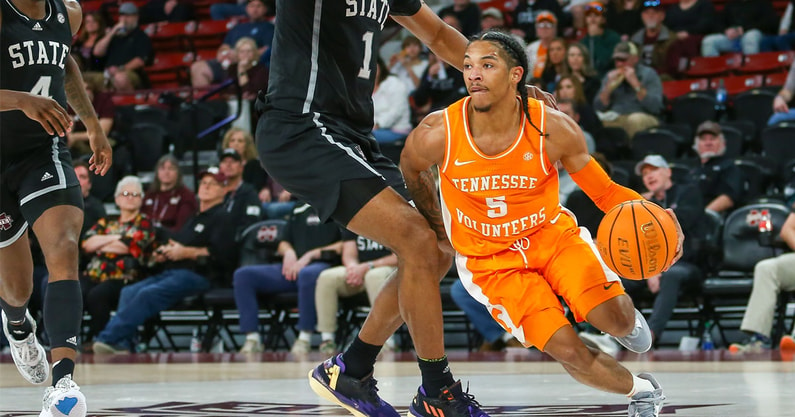 Tennessee topped Mississippi State 70-59 on Tuesday night despite playing without two of the team's stars, managing to win on the road in large part thanks to a breakout performance by Zakai Zeigler.
The point guard managed to score a season-high 24 points while having to play cautiously with backcourt mates Santiago Vescovi and Tyreke Key out due to injury.
"I think we had to throttle back," coach Rick Barnes said. "We knew coming in tonight that we were going to be down 10 fouls in the backcourt. We had one point guard. Even though we would look at (Josiah-Jordan James) as being a point-forward, a guy that can handle the ball if necessary, we knew Zakai was going to have to play a lot of minutes and we told him, 'Hey, you can't get in foul trouble.'
"He has a hard time doing that, backing up. Because his instincts, he wants to go play 94 feet, he wants to be aggressive and we obviously were in a really contained, tight defense."
But Zeigler had no issues doing so on Tuesday night in the double-digit win over the Bulldogs.
He played every single minute in the contest and managed to finish with just three personal fouls. He matched his season-high with six rebounds, while also contributing four assists and three steals in the effort.
Zakai Zeigler breakout performance fuels Vols
The game didn't get off to the best start for Tennessee, which trailed for most of the first half before a basket malfunction seemed to throw off Mississippi State's mojo.
"Early in the game we did make too many scouting report mistakes early in the game," Barnes said. "Backcut out of bounds plays, we can never do that. Leaving our feet. Not staying in front of drivers and things like that. We settled in and I thought as the game continued on I thought we really, the guys that were settled in and were playing had great communication. Started talking on the court and you could tell they were locked in against a team that, they were working hard."
Zeigler led the way, even though he wasn't quite able to play the way he wanted to on the defensive end. Whatever the case, job well done.
"When you back off somebody that has the wiggle that some of their guards have, it's hard," Barnes explained. "Whereas normally he wants to get up to them, because he likes it when people back off him, he can do some stuff too. But the fact that he got going offensively; and we told him, 'Hey, you come off these ball screens, or you come off our money set, you're open, you've got to shoot it.'
"I thought once he started doing that everybody else fed off his confidence."
Tennessee will be back in action on Saturday at LSU, with a game slated for a 4 p.m. ET tip on ESPN.