Brian Jean-Mary shares feelings on playing freshmen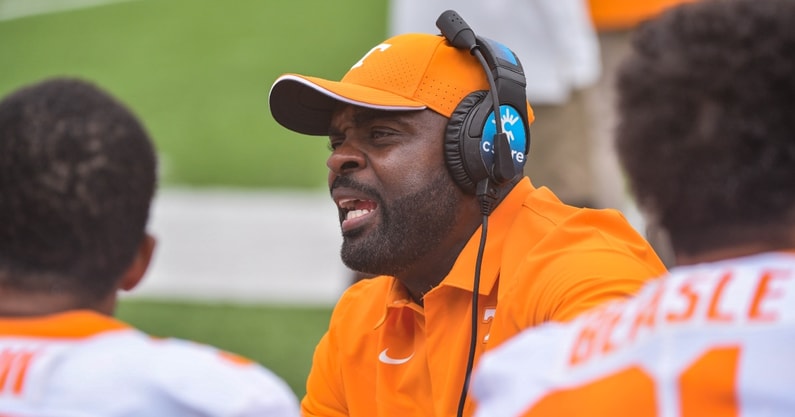 Brian Jean-Mary has no qualms about the playing time he's willing to allot freshman on the Tennessee Volunteers defense.
As Jean-Mary prepares for another season as the leader of the Volunteers' linebacker corps, he's looking for suitable players to help them achieve their goal of becoming the top team in the SEC, and it doesn't matter what class you're in. According to Jean-Mary, the best of the best will see the field, regardless of their veteran status.
"You know how it is, especially with guys who come in midyear, it's not being a true freshman, it's are you one of the best 22 guys on defense, or 40 guys on defense that are going to travel, and if you can help us win, take the year out of it," responded Jean-Mary. "If you're mature enough and you can execute at a high level, and help us go win the SEC, you're going to be able to play. The freshman part doesn't mean anything to us.
"There are guys that are juniors, if they can't play at a certain standard, we should be at the point where they shouldn't be on the field."
Moreover, it's refreshing to hear a coach with a modern take on the idea, as Jean-Mary simply is looking out for what's best for the Volunteers. There'll be no bonus playing time for seniority within Tennessee's linebacking department, not as long as Jean-Mary is in charge.
Prior to taking his talents to Knoxville, Jean-Mary spent a season in 2020 under Jim Harbaugh's watch with the Michigan Wolverines, impressing enough that Josh Heupel brought him to Knoxville when he made his move. Since, it's evident he's been supremely important to what the Volunteers' leader is attempting to accomplish moving forward, and he's preparing for another season of getting the best out of his group.
Ahead of the 2023 season, Tennessee is entering with heightened expectations, after falling just short of the College Football Playoff last year. While they may have crashed the party earlier than anyone would have expected, it comes with the territory now, the clock is ticking and people are expecting the Volunteers to have an even better season.
Time will tell if Brian Jean-Mary and company are able to, but there isn't any reason to bet against his unit, or the Tennessee Volunteers as a whole next season. It should be another fun one for the program in 2023.