Greg McElroy says Tennessee is on an 'upward trajectory' toward national championship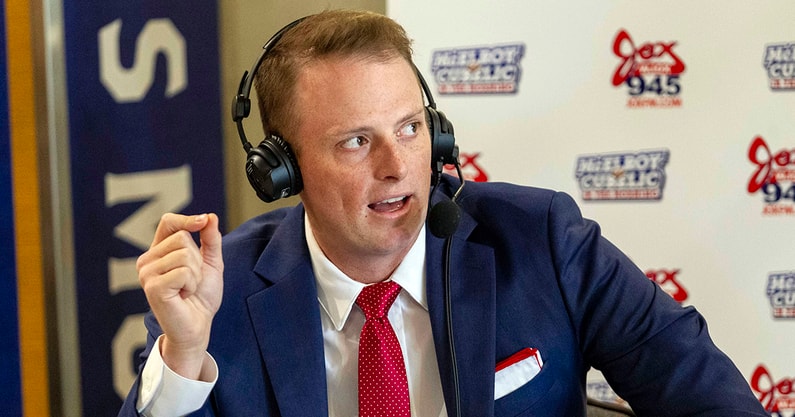 Tennessee opened plenty of eyes last year — the second under Josh Heupel — with an 11-2 record. Prior to Hendon Hooker's season-ending injury and the loss to South Carolina, the Vols appeared poised to make a case for the fourth spot in the College Football Playoff.
The key now, according to ESPN's Greg McElroy, will be building on it. If the Volunteers can do that, they're on the right track toward a title run.
Tennessee got some marquee victories last season, with the win over Alabama at Neyland Stadium topping the list. But the Volunteers struggled against Georgia and, of course, fell to South Carolina after Hooker tore his ACL. McElroy pointed to the Georgia matchup as one to watch going forward, though. If the Vols can keep pace with the two-time reigning champions, they can make some noise.
Even though there's a gap between the two, McElroy said Tennessee has enough support — from multiple avenues — to be a key player on the national stage.
"Tennessee, look, you've got to continue to do it," McElroy said on Always College Football. "You've got to continue to play against Alabama, to play better against Georgia. And they are still, it feels at least right now, like there's a pretty decent sized gap between Georgia and Tennessee based on last year's performance.
"But when you take everything into account and you look at how Tennessee has recruited in the past, how Tennessee is going to continue to recruit, their commitment to NIL, where they're at right now as far as a fan support and fan morale standpoint. It does feel like Tennessee is on an upward trajectory. I am really optimistic about them."
Greg McElroy: 'It's a little bit to be determined' if Josh Heupel can bring a national championship to Tennessee
Whether Tennessee is on the right track toward a national championship is one thing. The other question is if Heupel is the guy to deliver it. Although there's plenty of story left to write, McElroy said the big leap the Volunteers took in Year 2 provides a sense of optimism about how quickly the Vols can rise to the top of the college football world.
Right now, at least, Tennessee has the ingredients to be a key player in the SEC picture.
"Now, ultimately, can Josh Heupel win a national championship? It's a little bit to be determined," McElroy said. "But given the growth they've made in a very short period of time, would anyone be surprised if they are consistently competitive at the top of the SEC? I don't think anybody would push back against that whatsoever."