Hendon Hooker raves about Jalin Hyatt, details his growth on offense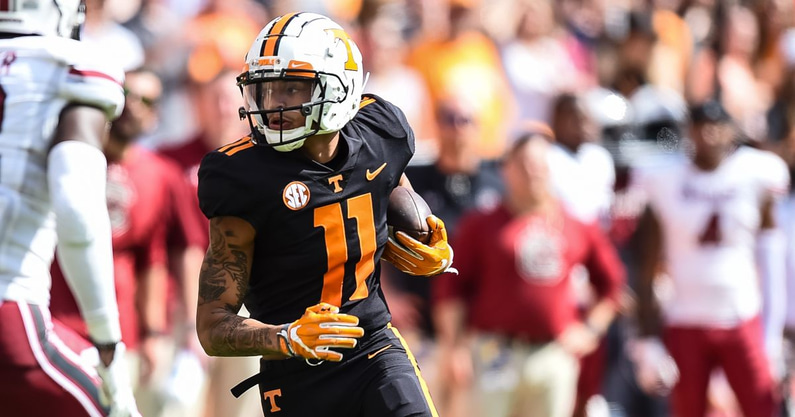 In three games this season, Jalin Hyatt's production has been more impressive than ever before. Averaging 251 yards per season through his first two years at Tennessee, Hyatt has exploded onto the scene with 18 receptions for 267 yards and three touchdowns so far through his junior campaign.
Quarterback Hendon Hooker discussed Hyatt's prowess on the field this season, which comes as no surprise to Hooker, who has worked with the junior wideout since arriving on campus last season.
"It's an amazing thing to see," Hooker said of Hyatt. "At some point in everyone's career, that light switches on and it's amazing to see how early it switched on for him and knowing that he wants to work and get better. He's in the film room asking questions and coming up and watch film on his own, so that's a huge step, and that's something that that can never go away when you're playing football."
CLICK HERE to subscribe for FREE to the On3 YouTube channel
Hyatt is the Vols leading wide receiver at this point, and there's no indication he's ready to slow down. Alongside his dynamic wideout counterpart Cedric Tillman, the two have accounted for 513 of Hooker's 884 passing yards this season.
"I'm extremely proud of the growth that he's made," Hooker said after the Akron win. "And he's going to continue to make, like I said before, we all have that mindset of getting better and better in our game, day in and day out, so I'm excited for for him and the rest of receiver corps as they continue to grow."
Hyatt has a chance to build on those numbers on a national stage against the No. 20 Florida Gators in Neyland Stadium. Kickoff is set for 3:30 p.m. ET live on CBS.