USFL College Draft: Memphis Showboats select Jerome Carvin with No. 43 overall pick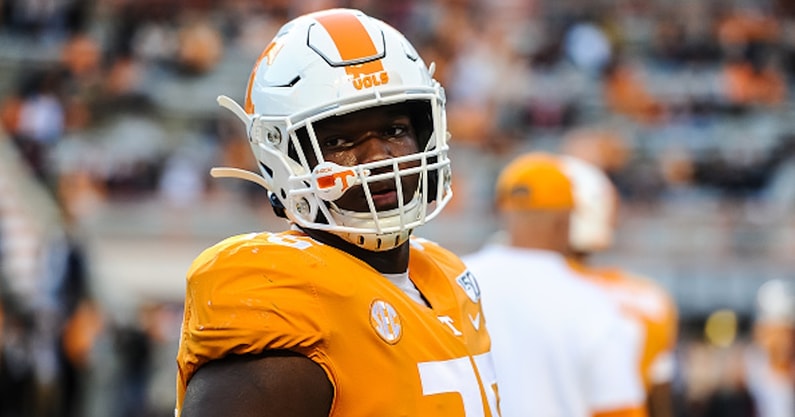 The Memphis Showboats selected former Tennessee offensive lineman Jerome Carvin with the No. 43 overall pick in the 2023 USFL College Draft.
Carvin previously declared for the NFL Draft last month. He aided the Volunteers to a No. 1 ranking during the 2022 season and helped the team win the Orange Bowl to cap off a historic year.
As a member of the Class of 2018, Carvin was a four-star prospect out of Cordova (Tenn.) High, according to the On3 Consensus. He was the No. 11 overall prospect in the state, the No. 25 interior offensive lineman in the class and the No. 395 overall prospect in the class.
The announcement can be seen below:
More on the state of the USFL
Last year was the initial season for the USFL, which also resulted in some history for spring football. The USFL was the first league in 40 years to have a successful inaugural season and then come back for a second season.
All eight USFL teams are remotely participating in this year's draft, drafting the rights to 80 players who are eligible for the draft from a pool of 3,000 players. In order to be eligible for the USFL Draft, athletes must be out of high school for at least three years and either used all of their college eligibility, or waived it. Junior college players can request eligibility after being out of high school for two years and not be enrolled in a four-year school.
"We are building the USFL for long-term success and our first-ever College Draft demonstrates our clear focus on building winning teams for Season 2, Season 3, and beyond," Daryl Johnston, the USFL's Executive Vice President of Football Operations, said. "The USFL will continue to search for and evaluate the best players to join our league. We are excited to see who the next KaVontae Turpin will be to turn an opportunity with the USFL into a springboard for success in the NFL. Conducting our inaugural College Draft shows that the USFL is committed to providing these talented players an alternative route to pursue their professional football dreams."