Josh Heupel reveals how Tennessee is handling 2023 expectations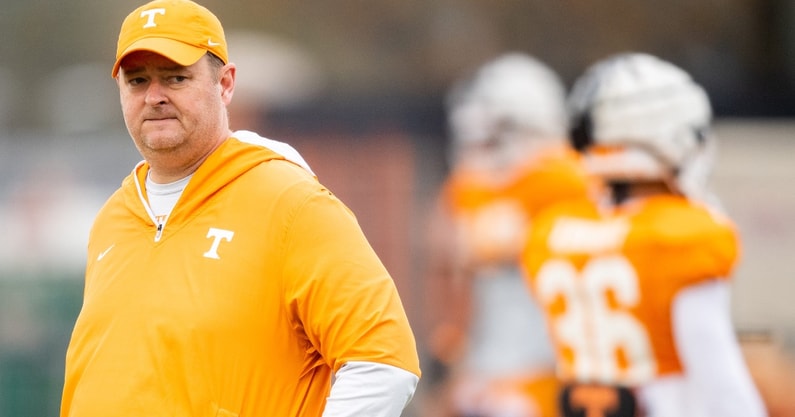 Josh Heupel recognizes the pressure is on for the Tennessee Volunteers in 2023 after a tremendous season last year.
Expectations have been raised both inside and outside of Knoxville. As Heupel readies his team for what's sure to be a grind, the Volunteers leader explained how Tennessee is handling the mounting pressure.
"The expectations in the building are what matter," started Heupel. "We want the noise on the outside. High expectations, belief in what we're doing, but the work habits are what predicate where we're going to finish up. You've got to invest in it every single day. The success that we've had in building a program is because of the investment of our players and our coaches alike. The investment in this season has to continue to sharpen, and be greater. I love what we've done since we got back in January.
"We're essentially at the halfway point of our offseason, before we get to kickoff. We've got a lot of work to do. I love what we've done, there's a lot of work ahead of us though."
Evidently, Heupel is pleased with what he's seen from his squad in preparation thus far. While there's bound to be plenty of changes next season, the Volunteers leader is looking to continue his team's ascension up the college football ranks.
One of the ways it'll happen is if Heupel can get the most out of quarterback Joe Milton. He's being thrust back into the starting role for the Volunteers once again, and the coach is liking what he's seen throughout the spring.
"He continued to refine his skills," Heupel explained, asked what he's seen from Milton thus far. "Understanding of who we are, what we're trying to do offensively, defensively. What we're seeing on the other side, from their structure. Doing a great job with his eye discipline. Then you combine that with his fundamental development inside of the pocket. I love what I've seen from him. 
"Should lead to him becoming a more accurate passer, being a great decision maker and taking care of the football."
Perhaps Milton will be able to pick up where Hendon Hooker left off last season under Heupel's guidance. He's for sure got the talent to do so, but it remains to be seen if he can put it all together.
Nevertheless, Tennessee and Josh Heupel are ready for the pressure expectations bring, and the Volunteers could be one of the teams to beat in 2023.