Josiah-Jordan James discusses how Tennessee bounced back after Florida loss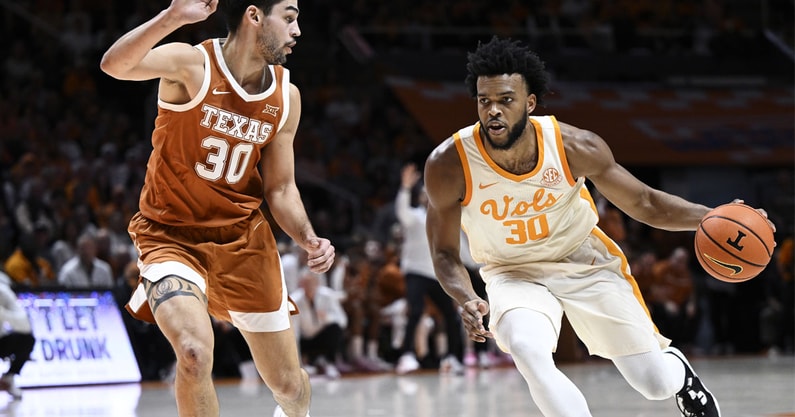 Coming off a midweek loss to Florida, the Volunteers were looking to flip the script in one key area, ensuring Tennessee bounced back after the loss. That area?
Defense.
After giving up 67 points in a loss to Florida, Tennessee had to do some real self-examination. After all, the Volunteers pride themselves on being the best defensive team in the country.
"On Wednesday when we played them we weren't that team," Josiah-Jordan James said. "So we sat down in the film room. We had to look ourselves in the mirror, individually and collectively as a team, and learn from our mistakes, and I felt like we did."
Indeed.
In a defensive struggle against Auburn, it was Tennessee that managed to come out on top in a 46-43 struggle.
The defensive end of the floor proved the difference.
"Like I've always said, we think we're the best defensive team in the country," James said. "Whether shots are falling, whether we're scoring or not, we always have to be able to rely on our defense."
Auburn finished the game just 13-of-55 (23.6%) from the floor and 3-of-27 (11.1%) from 3-point range.
Tennessee bounced back with effort, physicality
Tennessee and Auburn got after each other this weekend. In a game with a final score of 46-43, Saturday's matchup in Knoxville was more of a 12-round bout than any kind of race. However, considering the kind of game it was, coach Rick Barnes thought it highlighted some of the Volunteers' biggest strengths, even if they were missing earlier in the week against Florida.
Barnes spoke about the physicality of the victory in his press conference following the game. He said it all came down to defense, which at this point of the year, is what you should come to expect within the SEC.
"In a game like this? If you're not locked in on the defensive end, it's not a game for you," Barnes said. "Both teams were being physical and working hard on that end."
"I think that's what you expect this time of year. You expect it within our league. I don't think there's a more physical league in the country than this league. Especially with coaches who have been coaching against each other for a while…It's hard-fought."