Urban Meyer praises Hendon Hooker, reveals checkmate moment in Tennessee win vs. Alabama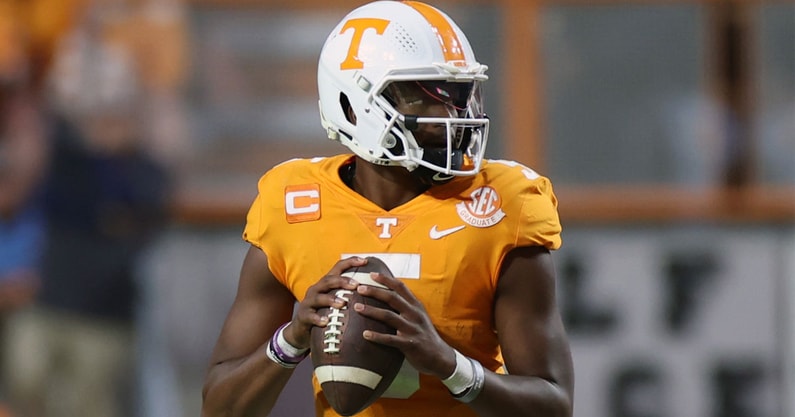 No. 4 Tennessee upended juggernaut Alabama over the weekend in a thrilling 52-49 contest that flipped the power dynamic in the SEC in 2022 completely on its head. Just about everyone is now singing praise for Hendon Hooker, including FOX analyst and three-time national champion coach Urban Meyer.
"It's all the quarterback. If you trust that quarterback you take a shot right there," Meyer said, explaining his checkmate moment in Alabama-Tennessee on Urban's Take with Tim May on the On3 Network on Wednesday. "Also they were having at-will against the Alabama secondary. You saw that safety. And I heard Nick Saban's comments, but the safety for some reason was playing real deep behind and gave them easy access throws.
"So that was a decision that I would have made as well if you have a quarterback you trust. If you have a young quarterback then you get to overtime and keep playing."
Of course, Tennessee took the risk.
It paid off in a big way. Hooker completed his first pass, an 18-yard hookup with Ramel Keyton to move the ball out to the 50-yard line.
His next throw was a dart to receiver Bru McCoy over the middle for 27 yards, setting up a game-winning 40-yard Chase McGrath field goal.
"That guy's a Heisman candidate, Hooker now. I mean what a player," Meyer said. "His name is all over the country now and it should be. But that was checkmate moment. That was one of those moments you practice and you never sometimes get until that one moment you get it, and he called the right play but more importantly the players executed."
Hendon Hooker praise well warranted at this point
Meyer's praise of Hendon Hooker isn't surprising at this point. Hooker now trails only Ohio State quarterback C.J. Stroud in the VegasInsider odds to win the Heisman Trophy after Week 7's games.
He's been terrific all year.
Running coach Josh Heupel's high-octane, fast-paced offense, Hooker has managed things expertly. The former Virginia Tech transfer has gone 119-of-170 passing for 1,817 yards and 15 touchdowns. He's thrown just one interception. Meanwhile, he's also added 287 yards and three touchdowns rushing.
The Volunteers have a real shot to knock the Georgia Bulldogs off their perch atop the SEC East and get to Atlanta for the SEC Championship Game.
Managing the high expectations will be key. Tennessee shouldn't have to worry about that this week in a game against UT-Martin at home that kicks off at noon ET Saturday on the SEC Network.