Rick Barnes not worried about scoring drought, points to positives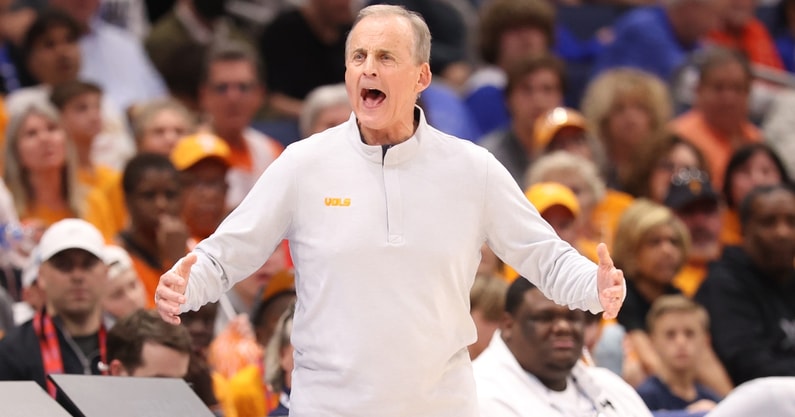 No. 2 Tennessee defeated No. 25 Auburn 46-43 in the lowest-scoring game the Vols have been involved with this season.
Josiah-Jordan James was the only Vol to score in double figures (15), but Rick Barnes isn't losing any sleep over Tennessee's lack of scoring Saturday. The Vols typically average 72.3 points per game, good for sixth in the SEC this season.
"I think our players would agree, we had some shots tonight we need to make. But when it's not — I'm really proud of our guys for staying locked in defensively," Barnes said postgame. "Again, I think the bench helped us because we were able to get guys some rest because every possession was a tough one.
"I just know that we'll keep going, get some of those shots to go down, give us a chance to get loose and settle in. But we're going to be in games like this, whether it's both teams scoring in the 60s or one-possession games. We've got to be able to make the majority of those high-percentage shots that we can make."
Both teams had awful shooting performances Saturday. Tennessee went a poor 27 percent (17-63) from the floor (2-21 from deep), while Auburn was even worse off, shooting 23.6 percent (13-55) and 11.1 percent (2-37) from three.
The shooting was so bad, it's tough to even call the game a strong defensive performance from either team. Both teams had over 40 rebounds and neither team turned the ball over more than 12 times, meaning it was all shooting woes for both squads.
It was the worst game the Vols have played all season long — and they still won over a ranked opponent. Even on off nights, this Tennessee team can beat the SEC's best. Finding ways to win, regardless of what happened in-game, is what gives this team a real shot of running the gauntlet when March Madness rolls around.