Santiago Vescovi reveals key to recent success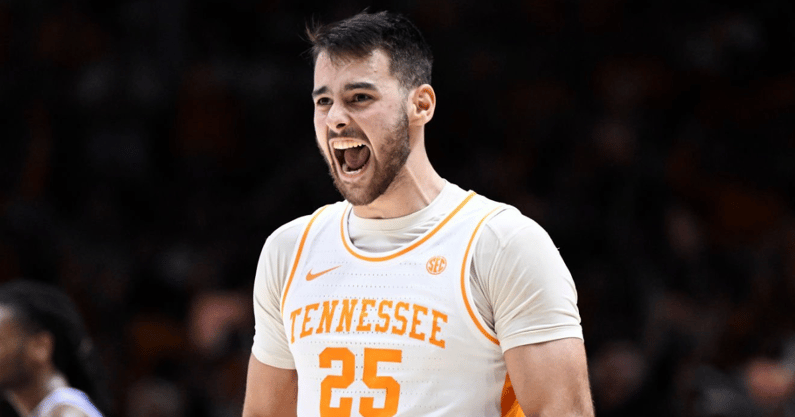 Adversity struck the Tennessee Volunteers in the worst possible way late in the year when star point guard Zakai Zeigler went down with a torn ACL. But since he left the lineup, senior guard Santiago Vescovi has stepped in to shoulder some of the extra load. In the four games prior to the start of the NCAA Tournament, Vescovi averaged 16.8 points and 3.5 assists while shooting nearly nine threes a game and knocking down over 45% of them. The Uruguayan is on a heater.
He did have a quiet night in round one against Louisiana and only scored three points, but it wasn't due to bad shooting. Vescovi only took three shots and was content to let his teammates carry the offense on Thursday. But even with that game tossed in, the Tennessee guard is still in the midst of a crazy hot shooting run.
When asked what he credits for his recent strong play after the win over the Ragin' Cajuns, Vescovi deflected to his teammates.
"Definitely the whole team I think my teammates put me in a great spot every time. Same thing with the coaches. I don't know, just going into the game, just letting the flow of the game go, and see what we can get. Not really out there thinking about scoring for myself or anything.
"The times that I get to score, I've got to give a lot of credit to my teammates. They really put me in the right spot and the right time every single time. Like I'm not worried out there. Like if I get to shoot it, I'm confident in myself. If they get to shoot it, I'm even more confident in them."
Per Santiago Vescovi, the team has faith in him and in all of each other to perform.
"I think that that freedom that we get to play with out there, knowing that we're going to have each other's back no matter what, I think that's what gets us a great sense of being confident."
Tennessee may not have played the best game of their season on Thursday, but on a weekend where many top-seeded clubs went down, the Vols played plenty well enough to fend off a squad of feisty Cajuns to advance to round two, where they'll face a team as hot as any in the country: Duke.
Santiago Vescovi will definitely need more than three points this time around if Tennessee wants to advance. Although, the key matchups will come down low, where guys like Uros Plavsic and Jonas Aidoo are tasked with slowing down Kyle Filipowski.
Should be a gnarly fight between two physical teams.