Tennessee baseball catcher Evan Russell cleared for Saturday's game against Campbell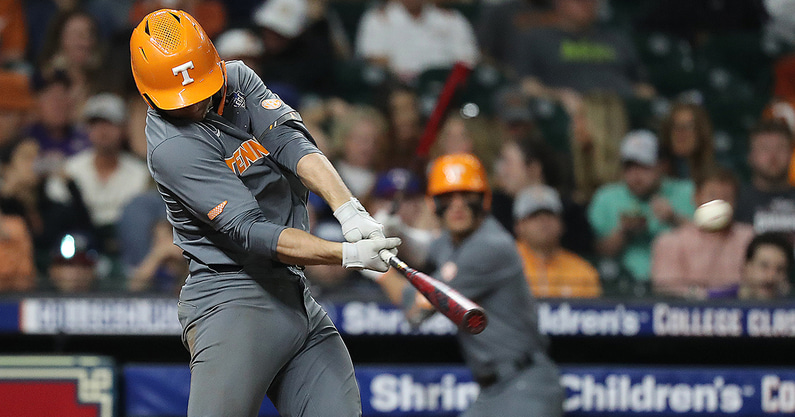 Evan Russell will be available for Tennessee's showdown with Campbell on Saturday. The Volunteers catcher missed Friday's contest against Alabama State with an illness, but he's a go just one day later.
"Evan Russell is cleared and available for Tennessee baseball against Campbell on Saturday, according to a source with direct knowledge of the situation," tweeted Mike Wilson of the Knoxville News Sentinel. "The Vols catcher did not play Friday against Alabama State."
Additionally, Evan's father — Jason Russell — tweeted his gratefulness that his son would be able to lace his cleats on Saturday.
"Evan has been cleared to play today !!!" tweeted Jason Russell. "God is good… to answer all concerns and doubt. Evan is good and just to clarify what's he been dealing with is anxiety, stress and pressure. Basically just the worries and conviction of the Lord… Evan's Great!!  Thanks to everyone!!"
After the Volunteers resounding win on Friday, skipper Tony Vitello explained Russell woke up feeling sick and was not able to play. Now, the catcher will be back in the fold on Saturday as Tennessee looks to start 2-0.
Moreover, Russell was a huge part both in the box and behind the plate for Tennessee this season. He hit .299 and 13 home runs on the offensive end while also dealing with a dominant pitching staff. From a fielding perspective, Russell had a 99.6 fielding percentage and only committed two errors.
More on Evan Russell, Tennessee Volunteers
In 2020, Tennessee baseball started using a unique home run celebration. This year, the Volunteers made an addition to it — and there's a fun reason for it.
Tennessee has used the 'daddy' hat for the last couple of seasons, and it got plenty of use this year. The Volunteers have hit 141 home runs this year, leading the nation, but decided to make a fun addition prior to the 2022 campaign.
That's where the fur coat came into the picture, and it's become a staple of the program. It first appeared before the season-opener, which Tennessee won 9-0 over Georgia Southern. Tennessee hit four home runs in that game, so it stuck around. But where did the coat come from?
It turns out catcher/outfielder Evan Russell was behind it.
"That is another Evan Russell creation," third baseman Trey Lipscomb said, via the Knox News' Mike Wilson. "He has the cheetah print pimp coat. We like it. Just put it on your shoulders or whatever."
On3's Griffin McVeigh contributed to this article.