WATCH: Tennessee drops epic hype video ahead of Week 1 matchup vs Ball State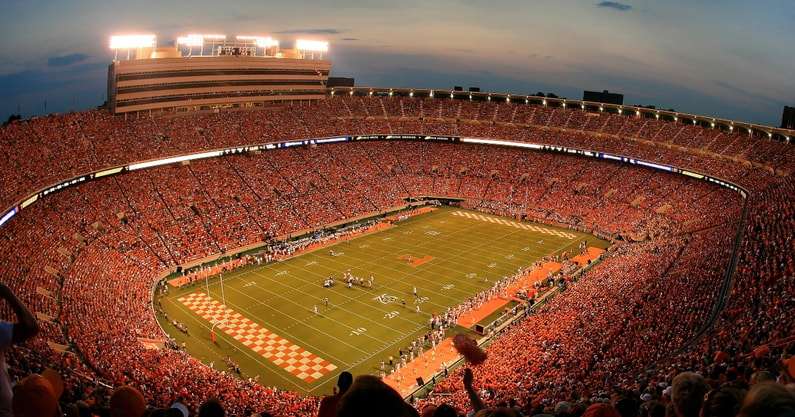 The Tennessee Volunteer 2022 football season is only a few short days away. There's plenty of excitement buzzing around this season in Knoxville and it's easy to see why when you take a quick glance at their roster. The Vols return a darkhorse Heisman candidate in their electrifying signal-caller, Hendon Hooker. Since the season is only a few short days away, it is officially college football hype video season. The Tennessee social media team pulled out all the stops for their hype video this week to get their fan base jacked up and they did a magnificent job with this video. It's one of the better one's you will see across college football.
Check it out.
If that video doesn't get you hyped for Thursday night, I'm not sure what to say. That is an incredibly well-done video. There's something about the electricity of college football that makes it more beautiful to watch under the lights and nighttime also provides for some beautiful images in videos like that one.
CLICK HERE to subscribe for FREE to the On3 YouTube channel
The Tennessee offense looks to take the next step in 2022
The Tennessee offense is ready to take the next step in 2022 — just ask Alex Golesh, the Volunteers' offensive coordinator. Although much of the 2021 offseason was spent implementing the new system, Golesh said the returning experience has allowed to Vols to be ahead of where they were at this point last year.
"Super, super efficient," the Vols offensive coordinator said. "Today was the first day that we actually split up scout teams. A year ago, first day of scout teams we spent half the period doing up-downs because the tempo for how scout teams should look was not what we wanted. You're not teaching the standard anymore of how to practice. You're having more conversations about scheme and how you beat a defender in certain looks more so than actual technique. You're able to focus more on details than we were a year ago at this time."
Alex Golesh helped the Tennessee offense to finish third in the SEC in both yards and points per game this past season. The fact that the offensive coordinator believes they are even better to start this season should put fear in opposing defenses.
Tennessee returns starting quarterback Hendon Hooker, who passed for 2,945 yards, rushed for 616 more and recorded 36 total touchdowns in 2021. The Vols also get their top receiver back in Cedric Tillman (1,081 yards and 12 touchdowns), as well as leading rusher Jabari Small (796 yards and nine touchdowns).
Golesh said the presence of so many veterans has allowed the younger players a better opportunity to learn and grow, leading to more depth this season.
"The difference right now is we feel like we're deeper with how many guys can play," he said. "At the same time, the young guys are seeing the old guys. You talk about the receivers — Squirrel (White), Bru (McCoy), Kaleb Webb. They're looking at Cedric and Jalin (Hyatt) now. There's guys they can look at and say, 'That's how you do it? Awesome. I'm gonna try to replicate it and obviously get better.'
"So drastically, it's easier in Year 2. The expectations are also higher and the standards are also higher. Our job as coaches is to hold them to that standard and if they don't achieve the standard, put their feet to the fire."
The Tennessee offense will look to live up to those high standards when they kick off their 2022 season at 7 p.m. ET on Thursday against the Ball State.
On3's Chandler Vessels also contributed to this article.