Josh Heupel expects to have close to a full roster for the Orange Bowl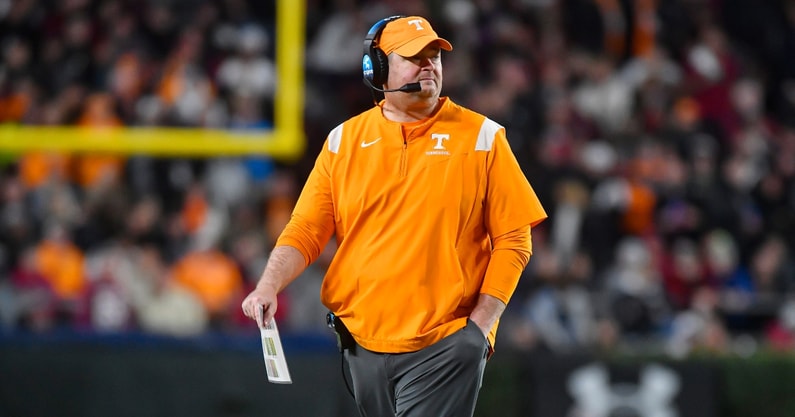 It was announced Sunday that Tennessee would be facing Clemson in this year's Capital One Orange Bowl, one of six New Year's Six bowl games that will headline the college football bowl season. The Volunteers had a magical, turnaround season under head coach Josh Heupel in his second year at the helm, with a roster full of multiple 2023 NFL Draft prospects. Some players with aspirations of playing at the next level have started opting out of their bowl games, which Heupel addressed regarding this year's Tennessee team.
"I certainly expect most of our guys to be there, there's guys that are still gaining information and guys that were nicked up on the back half of the season that you've got to see where they get to here over the coming days and make a smart, educated decision for them and their future," Heupel said.
Between injuries, the transfer portal, and the decision to opt-out of bowl games, the Volunteers team could look a lot different between now and their date with the Tigers on December 30. But Heupel is convinced that his team is not taking the magnitude of this bowl game lightly, and expects to see most of his team suited up and ready to play at the end of the moth.
"But this is a special football game, this is important to our program, it's important to our players inside of the locker room. I certainly believe we'll have a majority if not a full roster when we get down there for it," Heupel said.
One player that is guaranteed not to play in this one is Volunteers star quarterback Hendon Hooker, who suffered a torn ACL in their Week 12 loss to South Carolina. Hooker was one of the most efficient quarterbacks in the country and a Heisman Trophy hopefully prior to his injury, as backup quarterback Joe Milton has taken the reigns of the offense in his absence.
The Vols have also had a multitude of players enter the transfer portal since the conclusion of the regular season including running backs Justin Williams-Thomas and Len'Neth Whitehead, wide receivers Jimmy Calloway and Jimmy Holiday, and tight end Miles Campbell.
Only time will tell how Tennessee's roster will look heading into the Orange Bowl, as they'll look to secure their first bowl victory under Heupel versus the Tigers on December 30 at Hard Rock Stadium in Miami.