Tennessee is 'really excited' by Joe Milton, Josh Heupel says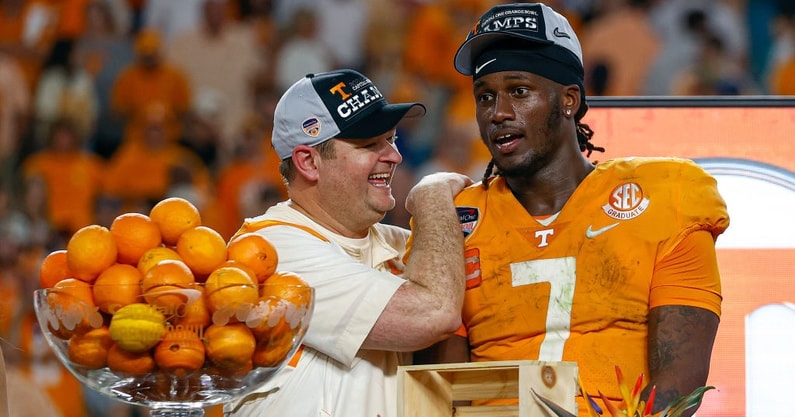 Joe Milton heads into his final season of eligibility in 2023, and is poised to be Tennessee's starting quarterback to start the year as long as he has a good fall camp and stays healthy.
We've seen flashes of what Milton is capable in Tennessee orange based on the small sample size we were given at the end of last season. Still, he's never been 'the guy' in any program, so the Vols still keep their options under center open.
Tennessee head coach Josh Heupel joined On3's JD PicKell on The Hard Count to discuss what Milton has been doing right since the Vols' bowl victory, and what he needs to do keep that momentum going.
"We're always different with each quarterback subtly in what we do, based on the things that they're really comfortable with, that they can operate and process at a really high level," Heupel told PicKell. "It's going to change a little bit because of the skill guys and who you are up front as well. So, year to year, we continue to grow and evolve.
"Joe's got the ability to spread it sideline to sideline, and vertically down the football field. You saw some of that in the bowl game. He's continued to refine his fundamentals from within the pocket. I think that's drastically changed his ability to be accurate. And, you know, really excited about what he's doing right now."
CLICK HERE to subscribe to the On3 YouTube channel today for all of the latest news on college football, recruiting, NIL, more!
Since arriving in Knoxville in 2020, Milton has passed for 1,346 yards and has a 12-0 touchdown-to-interception ratio entering his final season of eligibility. Before that, he played for Michigan from 2018-2020 before hitting the transfer portal and setting down at Tennessee.
After being forced into a starting role following Hendon Hooker's torn ACL, Milton helped lead the Vols to a 31-14 win over Clemson in the Orange Bowl. He completed 19 of his 28 attempts (67.9 percent) for 251 yards and three touchdowns.
Even with his experience, Milton is not Tennessee's starting quarterback just yet. Incoming freshman Nico Iamaleava is the highest-rated quarterback recruit to commit to Tennessee since Peyton Manning, and the expectations for him to perform well right away are prodigious.
No one would be surprised if the prodigy started for Josh Heupel's squad on day one — and Iamaleava is doing all he can to develop into a starting SEC quarterback by the first game. He's planning to "stay ready," all season long in the hopes his number gets called — and that might end up being sooner rather than later if Milton isn't careful.