Tennessee wide receiver makes decision on future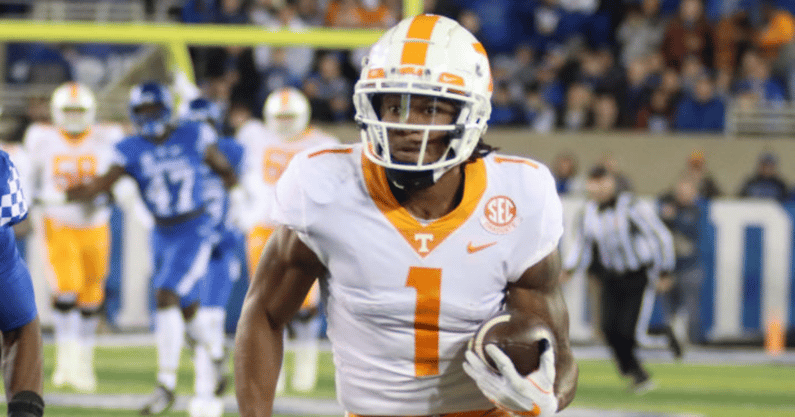 Tennessee wide receiver Velus Jones Jr announced his decision to enter the 2022 NFL Draft, according to a post on his social media page. The redshirt senior played two seasons with the Volunteers after spending his first four seasons at USC.
Over six college seasons, Velus Jones Jr played 59 games between USC and Tennessee, starring in his role as wide receiver and return specialist. He recently received an invitation to the 2022 Reese's Senior Bowl and was named to the organization's Senior Bowl All-American team as a punt returner.
Over his four seasons at USC, he caught 36 passes for 347 yards and one touchdown, adding a rushing touchdown and a kick return touchdown. After transferring to Tennessee in 2020, Jones caught 84 passes for 1,087 yards and 10 touchdowns over two seasons, adding another kick return touchdown.
Statement from Velus Jones Jr.
In addition to the announcement that he would enter the 2022 NFL Draft, Velus Jones also issued a message to fans, his coaches and former teammates on Twitter.
"Foremost, I want to thank God for this beautiful, long journey as nothing is possible without Him.
"I would also like to thank each and every person that has played a part in my success thus far and those to come. Thank you to the coaching staff for believing in me and affording me the opportunity to pursue my dreams.
"From the moment that I arrived at the University of Tennessee, I knew there was something special here. I could see the potential and was well aware of the historical greatness held here at the University. I expected to form new friendships, but those friendships have turned into a brotherhood, an unbreakable bond that will last forever. My brothers and I have laid our bodies on the line every workout, practice and game for the Power T. I will be cheering you guys on during the 2022 season to bring the SEC Championship home to Rocky Top where it belongs. Thank you to Vol Nation for being the loudest, craziest traveling fanbase in college football. This 2021 season has shown me why Tennessee is the best university in the world. You all have made this experience unbelievable, and I cannot thank you enough. Coming to the University of Tennessee was one of the best decisions I ever made. I will forever bleed Orange and White as a proud graduate and Vol for Life! Rocky Top will always be home sweet home."