Tim Banks evaluates early impact of two BYU transfers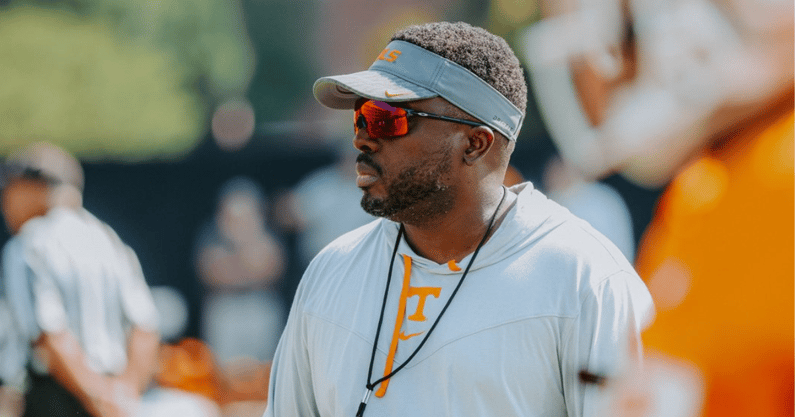 The transfer portal has the potential to shake up just about any college roster on the fly, one of the positives and negatives of the transfer portal era in college athletics.
But if you're trying to remake a unit, a quick portal pluck of a few talented players looking for an opportunity elsewhere can be an easy fix.
Tennessee might have just such a situation on its hands as it brought in a couple of high-profile BYU transfers this offseason to help shore things up defensively. Gabriel Jeudy and Keenan Pili are already having a nice impact this spring.
"Both those guys have been awesome," said defensive coordinator Tim Banks. "They're obviously both experienced guys. Gabe, from the back end perspective he's very calm. He has a great demeanor about him. Extremely smart. So far he's been everything we want him to be."
Jeudy isn't necessarily a newcomer in the SEC. Prior to becoming a BYU transfer he played at Vanderbilt, where he recorded 63 tackles, two tackles for a loss, two interceptions and four passes defended while starting 13 games.
He had a similar set of production in his lone year with the Cougars, logging 46 tackles, 0.5 tackles for a loss and seven pass breakups.
Pili, meanwhile, is a linebacker who has also been quite productive. He's another BYU transfer already earning respect from his coach.
"As far as KP goes, I actually love this kid," Banks said. "He's just a guy that's great to be around, just the way he carries himself as a young man. But then obviously when you get him on the field you understand why he's played so many games."
Pili played at BYU for four seasons, so he's got some significant experience under his belt.
In his career he has tallied 190 tackles, 11.0 tackles for a loss, 3.0 sacks, a forced fumble, two fumble recoveries and four pass breakups.
He'll be tasked with helping shore up a Tennessee passing defense that finished near the bottom of the country last year, giving up 289.5 yards per game, good for 127th nationally. Only four teams were worse. Granted, the Volunteers defense had to contend with having one of the nation's most prolific offenses on the other side, so opponents were generally forced to press.
But Tennessee is excited about the BYU transfers.
"We're excited about both guys," Banks said. "We think they both have an opportunity to contribute to our program, and obviously as they continue to grow their roles will be determined."