J.D. PicKell on what Johntay Cook's commitment means for Texas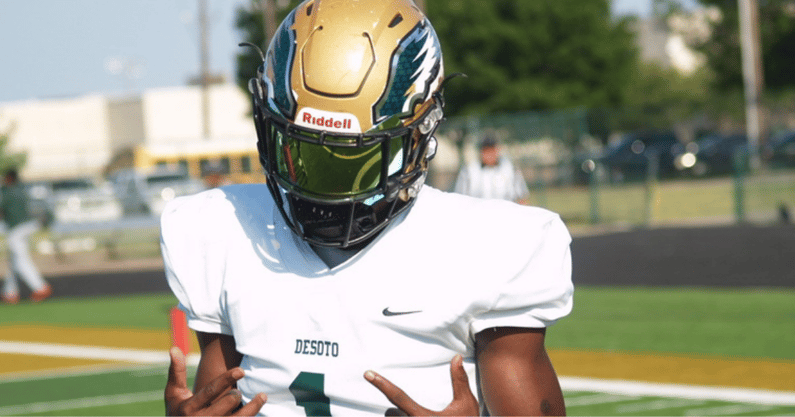 It is a good time to be Texas fan right now.
The Longhorns have been crushing it on the recruiting trail since landing Arch Manning, most recently snagging elite four-star wide receiver Johntay Cook II out of DeSoto, Texas.
Landing Cook is a major deal for the Longhorns as he is the No. 4 player from the state of Texas and can play be a huge part in Steve Sarkisian's offense.
But it goes beyond that as On3 National College Football Analyst J.D. PicKell explained the what Johntay Cook's commitment says about Texas on Thursday.
Johntay Cook's commitment illustrates the Arch Manning effect
For PicKell, Johntay Cook's decision is the first major domino to fall and show the power of Arch Manning.
For months, it has been reported that top players were going to wait out Manning's decision in hopes of playing with him. That appears to be true with Cook making his decision so soon after Manning.
"We talked about it when he committed: a lot of people want to play with Arch Manning, especially on the offensive side of the football," PicKell said. "You're telling me you're a high school receiver, you're a high school running back, you don't want to get the ball from Arch Manning? You don't want to go deep and catch a post from Arch Manning in Austin? A lot of guys are going to want to play with him. For one reason being, your future likely is dependent on having a guy that can get you the football if you're at receiver."
Johntay Cook's commitment shows Texas' message is resonating.
The Longhorns were 5-7 last season. They were a mess the second half of the year, including its now infamous loss to Kansas. They haven't developed as much talent as they ideally should have in previous seasons.
But it isn't mattering to these elite level recruits. They are buying into the vision. That is huge, PicKell said.
"The fact that Texas is able to capitalize on these recruits relationships with these coaches is paramount," PicKell said. "Because at the end of the day, the example I always use is Travis Hunter's commitment to Jackson State. People commit to people. Travis Hunter committed to Jackson State, yes. Even more so, he committed to Deion Sanders. Same thing we're seeing here with Johntay Cook and Arch Manning and all the other big-time recruits they're landing. They're committing to these coaches, to Steve Sarkisian. The fact they're winning the people aspect of this industry is phenomenal and should signal a lot of good things to come for Texas. You buy in at 5-7, you're definitely going to stick around when you start to see that success on the field."
Texas is laying the foundation for future success
The Longhorns may not be at an elite level right away this year, but PicKell likes what they are building in Austin.
Moves like these, he says, lays the foundation for the program. The more good players you get involved in the program, the better the product you put out on the field is going to be.
And, on top of that, they have a coach and a staff that is going to have the time to develop players.
"For Texas, be encouraged because even more so than getting guys in the boat, you have a guy that's going to get time to develop them. The administration — the people in charge at Texas are going to give Steve Sarkisian time to develop these guys that he has now got committed."