Look: Former Texas Longhorn defensive back announces his transfer destination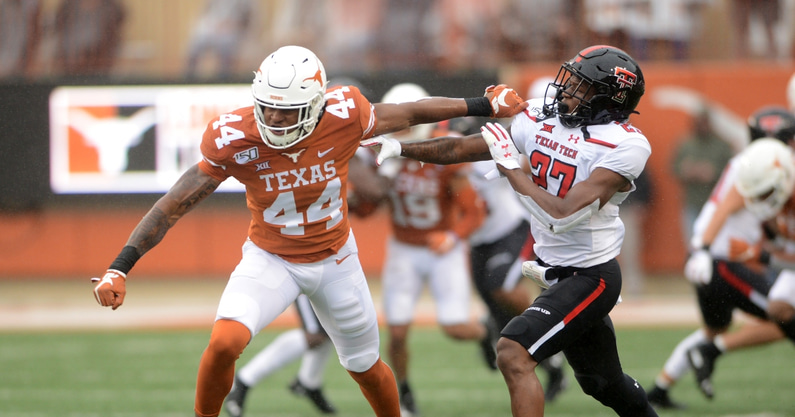 Former Texas Longhorns safety Tyler Owens has finally decided on what school he will call home next season. Owens entered the transfer portal in October after experiencing almost no playing time with the Longhorns this season. The 6-foot-2 junior out of Plano (Texas) played sparingly in just two games for Texas, against the Texas Tech Red Raiders and the Rice Owls. And next year Owens will suit up for one of those two schools.
On Tuesday night, the Texas Tech Red Raiders announced that Owens has committed to playing in Lubbock for the 2022 season. The move was announced courtesy of the Red Raiders Twitter account, welcoming the junior back home to East Texas with this tweet.
2021 was not the only year in which Owens struggled to get on the field for the Longhorns. in each of his three seasons at Texas, he failed to register more than eight total tackles for a season. And in two seasons, he did not register in any other statistical category. Owens's career at Texas concludes with 13 total tackles, 10 solos, and one pass deflection over three years. In the 2020 season, he did have one punt return for 21 yards.
Two more Texas defensive backs enter the portal
Texas will be without two of their veteran defensive backs from now on, as both B.J. Foster and Chris Adimora have entered the transfer portal, per On3's Matt Zenitz.
Foster is a big loss for Texas, as he notched 46 tackles and a team-leading three interceptions this season. According to the Texas website, the fourth-year safety played in 31 games and made 16 starts in burnt orange. He was a five-star recruit, and the No. 1 overall safety and Texas prospect in the 2018 class according to On3.
Foster famously "quit the team" midway through a game against UTEP in 2020 due to frustration with his playing time. Obviously, he returned to the team shortly thereafter. He had shoulder surgery in 2020 and later fractured his hand, and he dealt with a hamstring issue in 2019.
Adimora had a more limited role in 2021, recording just 10 tackles and 0.5 sacks. He played in 23 games and made 10 starts while with the Longhorns. The 6-foot-1, 205-pound defenseman was a four-star recruit out of Long Beach, Calif.