Quinn Ewers, Kyle Flood explain how valuable bowl practices were for Texas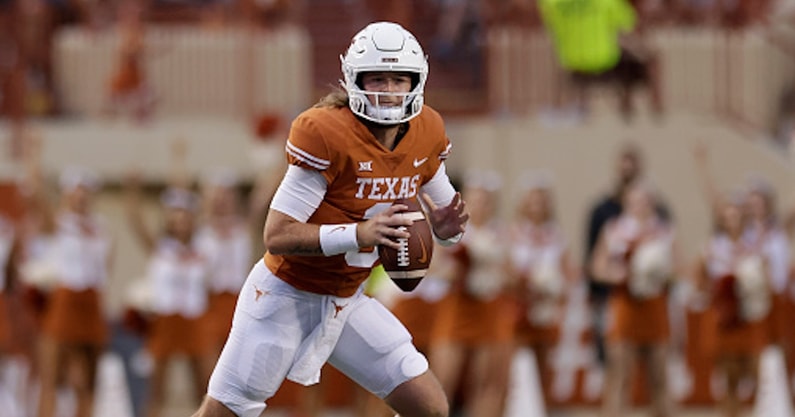 With Texas and Washington just a day away from squaring off in the Alamo Bowl, Quinn Ewers was excited to go back to basics. Longhorns offensive coordinator Kyle Flood explained how valuable bowl practices were for his quarterback and team ahead of a big matchup with the Huskies.
"There's no question that bowl prep has a spring practice kind of feel in the very beginning when you're working against your own defense," Flood said. "We're always evaluating ourselves, but during the season when you're putting in a new game plan every week, you don't always have the time to go back and focus on the absolute details of your position, things like the footwork you talked about at the quarterback position."
Flood mentioned how it was an opportune time to get a new crop of players some solid work ahead of a big game.
"We've got some younger players that are going to have a bigger role in this game than they've had in other games this year for a lot of different reasons, and it has given them a chance to kind of absorb the game plan and get acclimated to the rest of the guys around them," he said.
"We're really pleased with the bowl prep to this point. I think the fact that you have an extended time to install the game plan and then go back over it is going to serve some of the younger players really well as we go forward, but the days in the beginning when you just start practicing after the season is over and they've had a little bit of time off to take finals and things like that, I think those are the days that are really critical to get back to your fundamental work."
Ewers doubled down the words of his offensive coordinator and appreciated a return to fundamentals.
"Yeah, kind of just to piggy-back off that, we kind of get to go back to the basics, and like Coach said, we get to understand what we're going to do on the offensive side of the ball, and again, a lot of reps for the younger guys, and they become a lot more comfortable."
It was a hot start to the year for Ewers, but a shoulder injury against Alabama sidelined him for a few weeks. It was not the best year on the stat sheet for the former five-star prospect and Ohio State transfer, but there were certainly bright spots.
After not playing for Ohio State in 2021, Ewers played nine games for Texas this season. He had 1,808 yards, 14 touchdowns, six interceptions and a 56.6% completion percentage.
No. 21 Texas (8-4) takes on No. 12 Washington (10-2) Thursday at 9:00 p.m. ET.