Steve Sarkisian pressed on why Texas isn't better now, whether he's planning changes to staff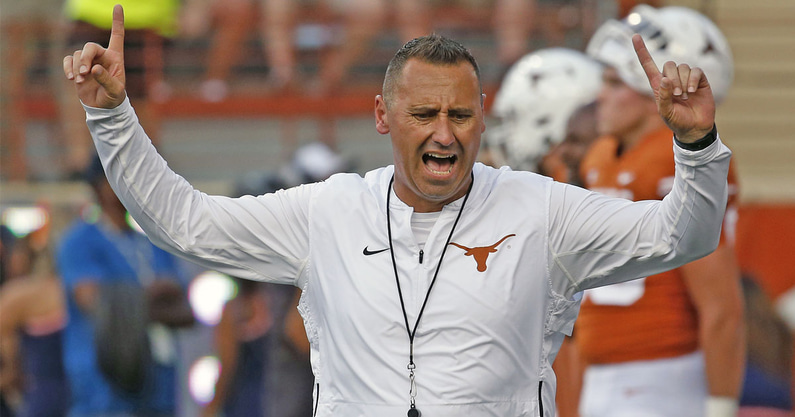 If you've spent more than a couple minutes following college football over the past decade or so you've probably heard some version of the question, 'Is Texas back?' More often than not, the answer has been a quick chuckle, followed by a dutiful, 'Nope.' But, boy, did Texas have fans believing there for a minute.
After the Longhorns pushed the then-No. 1 Alabama Crimson Tide to the brink in Week 2, falling 20-19 only after 2021 Heisman Trophy winner Bryce Young engineered a drive for a game-winning field goal in the final minute, many thought coach Steve Sarkisian finally had things headed that direction in his second year in charge.
Then Texas lost to in-state rival Texas Tech on Saturday, prompting the equally familiar follow-up to the 'Is Texas back?' question.
"Why would you say a year and a half into your tenure here the team isn't better right now?" a reporter asked on Monday.
Sarkisian, relatively unfazed, answered with a positive spin.
"Sometimes it's easy to look at result and think, 'Oh, we're not better,'" Sarkisian said. "But I see a lot of improvement on where we're at. Naturally the consistency factor is critical, and we can't afford to have lapses in our consistency in play, in our preparation, or we'll get the result that we had."
Steve Sarkisian mum on possible staff changes
The second part of that reporter's question to Sarkisian Monday involved staff changes. Is he planning any changes with the starting lineup or his staff?
The second-year head coach mostly evaded specifics on that front.
"I think we are better," Sarkisian said. "I know sometimes the results don't look that way, but I do think we're a better football team. I have a lot of confidence in the work that the players, the coaches have put into this."
Texas won't have a lot of time to turn things around. Up next is a home game against a West Virginia squad that has been in some tight contests with quality opponents this year.
The Mountaineers fell on the road at then-No. 17 Pittsburgh 38-31 in a highly competitive season opener, then lost to unbeaten Kansas in a thrilling overtime game. This past week, West Virginia trounced Virginia Tech in Blacksburg, Va.
And that game was on Thursday, so the Mountaineers have had a little extra time to prepare for Sarkisian's squad this week.
There's no hint of panic from the Texas coach, though.
"I feel good about where we're at as a program but we've got to put it on the field every Saturday," he said.