Texas enters top 5 of On3 Consensus Team Recruiting Ranking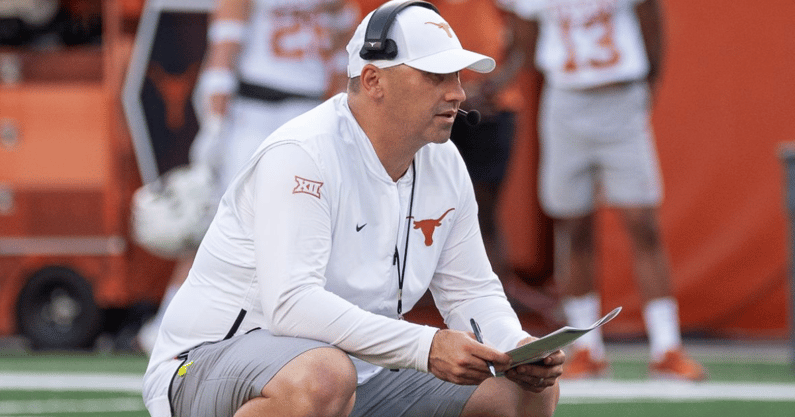 It has been quite the recruiting week for Texas.
It started with New Orleans Isidore Newman Five-Star Plus+ quarterback Arch Manning's surprise decision Thursday and ended with four players committing Sunday to the Longhorns.
In total, seven players committed to Texas this past week, which has seen the program go from outside the top 10 of the 2023 On3 Consensus Team Recruiting Ranking to No. 5 overall. That places them ahead of Alabama, Clemson, Tennessee and Texas A&M, among others.
Manning was clear the crown jewel of the class but the Longhorns other recruits are also quality players.
Manning's high school teammate Will Randle start the wave last Sunday, which Manning pushed into overdrive Thursday.
Kahuku (Hawaii) four-star linebacker Liona Lefau continued the trend with his commitment Saturday.
Then came Sunday's quartet of Houston Dekaney four-star wide receiver Jonah Wilson, Harker Heights (Texas) four-star interior offensive lineman Jaydon Chatman, Frisco (Texas) Wakeland four-star interior offensive lineman Connor Stroh and Arlington (Texas) Mansfield Timberview four-star interior offensive lineman Andre Cojoe. The group pushed the Longhorns into the top 5.
Houston Aldine Eisenhower four-star wide receiver Ryan Niblett, DeSoto (Texas) four-star running back Tre Wisner, Santa Ana (Calif.) Mater Dei three-star tight end Spencer Shannon, Arlington (Texas) four-star Seguin safety Jamel Johnson, Fort Worth (Texas) North Crowley four-star linebacker S'Maje Burrell and Houston C.E. King four-star defensive lineman Dylan Spencer were all committed before this week.