Timmy Allen supports Rodney Terry as permanent Texas head coach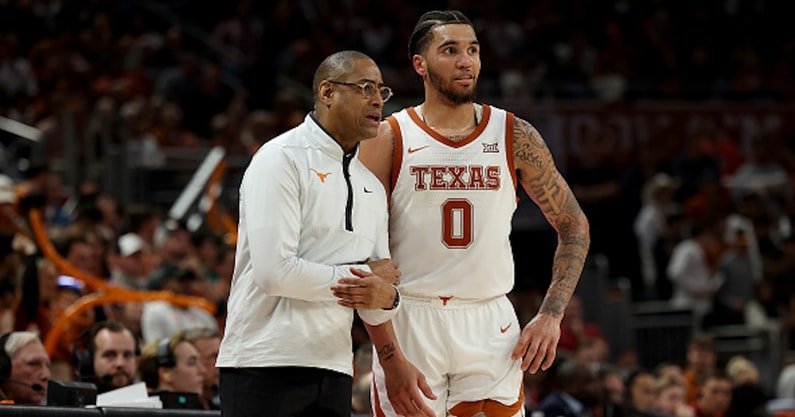 Texas senior Timmy Allen supports Rodney Terry as the permanent basketball head coach of the Longhorns. Terry took over for Chris Beard when the latter was involved in an alleged domestic dispute and eventually fired earlier this season.
Since then, Terry went on a tear as the head coach. He's 21-7 this year and led Texas to a Big 12 Tournament title. Next up is a Sweet 16 game Friday against No. 3 seed Xavier.
Allen joined Sirius XM's Big 12 Radio and vied for Terry to get the permanent job.
"I would say they're smart," Allen said if Texas hires Terry permanently. "He just wakes up every morning and attacks. There's nothing really to it. He's the guy who has been here before, he's been around successful people who know the recipe to success. So we come in and listen to him and he leads us … (Coach Terry) gets everybody situated (and) he's a player's coach.
"If you have an idea, he's open minded to working with you on certain coverages or if you think we should do something this way, like he's not a dictator. He empowers people to be who they are. And I think that's something that's helped us thrive. 
Allen elaborated and said it was all business with Terry this season since he took over for Beard.
"And he just puts his head down every day and comes to work," Allen said. "There's nothing special, nothing crazy (about) it. But I just think his approach and embracing that and embracing us and just having that trust and he tells us every day man, you guys can do anything you guys want. (There is a goal to win a) national championship, you want to win national championship, and that empowers us and we stand by him."
Before the NCAA Tournament, Jeff Goodman reported, "They're going to swing for some of the big boys, if they don't hire Rodney Terry. If Rodney Terry goes deep, they're going to have to give it to Rodney Terry. They don't want to. Chris Del Conte doesn't want to ultimately. But he may have no choice if Rodney Terry goes deep, second weekend or beyond. If not, they're going to try to swing for the fences."
However, Goodman also reported that Scott Drew and Kelvin Sampson both don't want the job, limiting the pool of big name candidates.
CLICK HERE to subscribe to the On3 YouTube channel today for all of the latest news on college football, recruiting, NIL, more! 
Terry was a longtime assistant at Texas before becoming a head coach at Fresno State and later UTEP, where he made the NCAA Tournament once during 10 seasons at the two mid-major programs.