Breaking down delay in Chip Kelly's potential contract extension at UCLA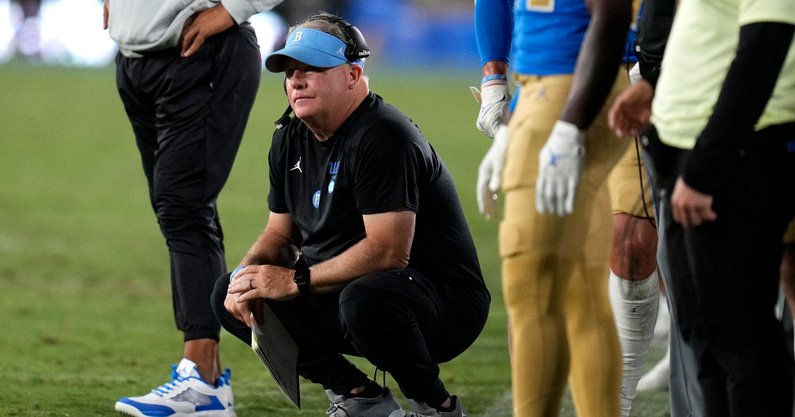 UCLA is getting down to crunch time with coach Chip Kelly. If the two sides don't agree to an extension by Jan. 16, Kelly's $9 million buyout expires.
That leads fans to ask what the hold up is. Los Angeles Times writers Ben Bolch, Ryan Kartje, J. Brady McCollough and Thuc Nhi Nguyen weighed in on Wednesday.
"It's a little mystifying that the parties have not been able to get this hammered out sooner given the optics of the $9-million buyout expiring [this coming] weekend, which would officially put Kelly into lame-duck status," Bolch wrote. "But the deal is expected to get done before then so that we can all move on. Kelly needs to back up his public comments that he loves being at UCLA by signing any reasonable offer that's put in front of him."
Kartje argued the ball is in athletic director Martin Jarmond's court to get a deal done. However, McCollough responded by saying Jarmond might actually have leverage because things have taken so long to materialize.
"The clock is ticking for athletic director Martin Jarmond," Kartje wrote. "As long as the deal gets done by the weekend, this situation should resolve itself. But what's the hold up? By waiting this long, it seems like Jarmond has sacrificed some of UCLA's leverage. They have no choice but to sign Kelly to some sort of extension now."
"Or … maybe Chip's buyout going to $0 after Jan. 15 gives Jarmond all the leverage?" McCollough responded. "He may like Chip just fine, but Chip is not his guy. Jarmond and UCLA reps have had over a month, if they were so inclined, to put out feelers to potential candidates.
"I'm not saying I think this is about to get messy, but I wouldn't rule it out either. After all, if we have learned anything from this ridiculous coaching carousel, it's to keep an open mind about what's to come."
Los Angeles Times: 'Chip Kelly's contract extension feels like Thanos in its inevitability'
Nguyen weighed in on the conversation, as well, saying the question isn't if a deal will get done. Rather, she said the question is when it'll get done.
"But to be left on this contract cliff for so long is a bad look for UCLA, definitely," Nguyen wrote. "Chip Kelly's contract extension feels like Thanos in its inevitability, but the long wait is damaging to the program that's trying to compete with USC's huge momentum-grabbing hire. Coaches and their agents have so much power in these negotiations, as we've noticed from the astronomical contracts being signed across the country.
"Whether he negotiates an extension or has to find a new coach, Jarmond has a tough job ahead because Kelly's agent isn't going to settle for anything less than what Kelly's first contract gave him."