Donte Williams criticizes team in multiple aspects following loss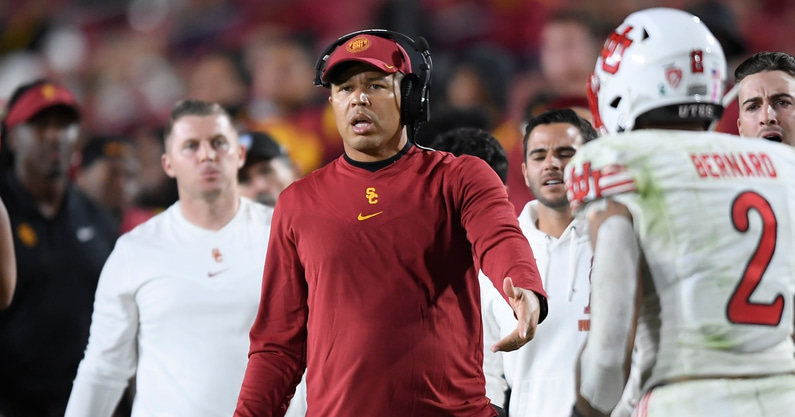 USC interim head coach Donte Williams was not happy with his team, to say the least after they came up short on Saturday against Utah. After the game on Saturday, he sat down with the cast of Trojans Live and aired out his grievances and point out the issues he saw with his team.
"To be honest there is a little bit of recurrent issues," Williams said to open. "It was a little bit of seeing the same thing and hoping for different results. So we have to make sure as players and as coaches that we take a long look in the mirror and we make those adjustments make sure that we don't get the same result."
Deja vu for Williams
Unfortunately for Williams, that result of losing 42-26 to the Utes was eerily similar to another game USC loss earlier in the season.
"The game against Utah was like a recurrence of issues from Oregon State. It's almost like Oregon State beat us twice. That cannot happen so we gotta make sure we make the corrections better needed to make sure that we move forward."
In both games, USC was able to move the ball well on offense. The only difference for the Trojans offensively was their ability to hang on to the ball this time around. They had one turnover against Utah in contrast to the four against Oregon State. USC quarterback Keldon Slovis was able to throw for 350 plus yards against both schools. And star receiver Drake London had himself another 150-plus yard game.
Where the Trojans moment of deja vu was bad against Utah was on defense and team efficiency. Defensively they gave up 486 yards to Utah, slightly better than the 535 against Oregon State. And in a similar fashion, USC was bulldozed in the run game. Utah was able to put up 180 yards on the ground. Although that was not as much as they gave up against the Beavers (322), it was still effective.
More of the same for USC
Efficiency wise Utah was able to convert five of 11 third downs and was perfect on fourth down conversions. They were also the least penalized team of the two drawing just two flags for 30 yards. USC's efficiency numbers resembled that of their Oregon State game. Against Utah, they were five of 14 on third downs and one of two on fourth down. They are also penalized eight times for 90 yards. Against Oregon State, they went seven of 13 on third downs, which is pretty good, but had 11 penalties that cost them 98 yards.
Donte Williams and the USC Trojans have the offensive firepower to stay competitive, but if he wants to stick around as head coach, he will have to do something about the team's efficiency and defense. It's hard to win a game against a quality opponent when you spend half the game beating yourself.