Jordan Addison reveals frustrations with pay-for-play rumors surrounding USC recruitment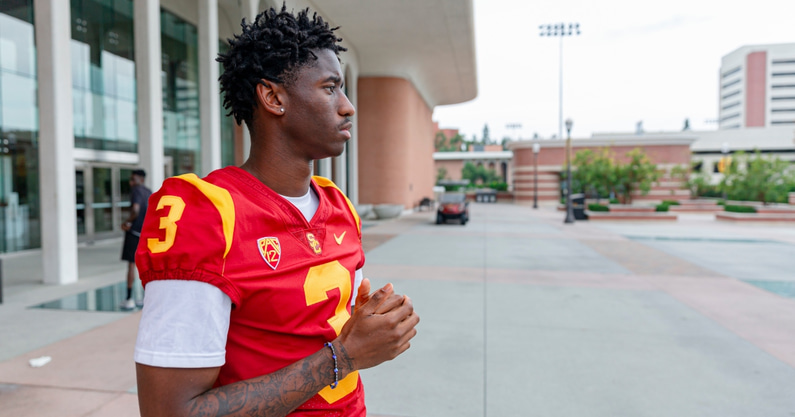 In 2021, Pitt wide receiver Jordan Addison was a consensus All-American and won the Biletnikoff Award as the nation's top receiver. Then, in May, Addison entered the transfer portal. Immediately, there were rumors that Addison was going to USC on a pay-for-play deal.
There wasn't ever any proof that Jordan Addison was going to USC on a pay-for-play deal. That isn't to say he doesn't have any NIL deals, he does. Rather, there was never any proof that he was induced to go to USC through NIL or any other pay-for-play scheme.
Still, a stigma followed Jordan Addison, especially when he did choose USC in the end. Whether it was true or not, the rumors have stuck to his reputation. Now, Addison has revealed his frustrations with those rumors.
"It was definitely frustrating, but I wasn't too concerned with it because the truth always comes to the light," Jordan Addison said. "So, I know what my focus is and my intent, so all of that is just outside noise."
"Social media," Addison explained where he first heard the rumors. "You know, social media is everywhere. You can pick your phone up and it's right there in your face."
"Just some BS. I mean, like I said, the truth is always gonna come to light. So, I just made sure I'm just gonna keep working and make sure I'm ready for the season," Jordan Addison concluded.
Jordan Addison faces high expectations
Whether it's fair or not, the expectations are high for Jordan Addison. He is coming off a phenomenal season, which, when mixed with the pay-for-play rumors, sets the bar incredibly high.
The good thing for Jordan Addison is that expectations are high, in part, because they should be. He's a great wide receiver who is transferring to USC to play for one of the game's great offensive minds. On a team reliant on transfers, he should stand out against the rest.
Jordan Addison has also been named to the 2022 Biletnikoff Award watch list.
Lincoln Riley responded to tampering complaints
New USC coach Lincoln Riley responded to rumors that USC tampered to recruit Jordan Addison.
"We've worked hard through our careers as coaches, my career as a coach, to do things with integrity," said Lincoln Riley. "I think we've largely done that throughout my career and I think if you ask people that have been around us and been in the inner workings with us, they know how we go about our business. So when someone challenges that with no facts and just only emotion, you take it personally? Absolutely you do. I understand this is an emotional time, it's an emotional game with a lot of emotional people. We recruited Jordan just like we did every other transfer."
"Jordan got in the transfer portal, Jordan came on a visit to USC despite all the negative things that were put out magically by somebody. He's a kid that's all about ball. All he wanted to do on his entire official visit was talk ball. We literally missed several of the meals and other things, entertainment, that we had scheduled just so we could watch more film and talk more ball. That's all he's about. And I think he's been really, really misrepresented throughout this whole thing and hopefully as this year goes on, people will get to see the quality of young man that he is. He's done a great job for us so far. He's a great member of this team and seems extremely happy to be in LA and playing for USC."