Keyshawn Johnson offers insight into search for USC football coach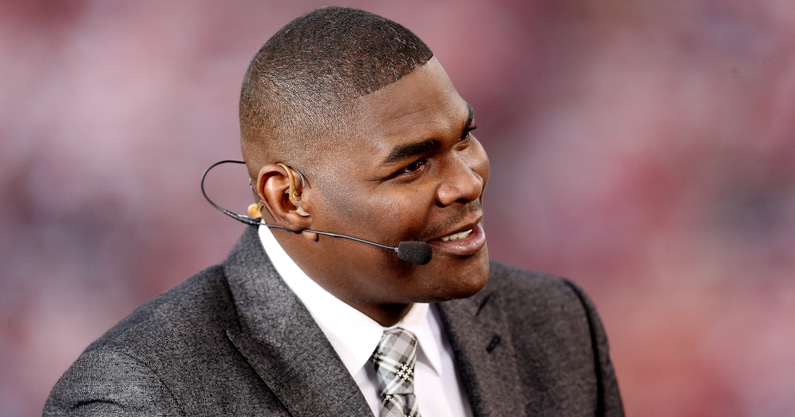 ESPN anchor Keyshawn Johnson offered his inside knowledge on the search for a new USC football coach Thursday. The former Trojan made an appearance on ESPN in which he laid out the blueprint for finding the next head man.
"We are certainly looking at all candidates," Johnson said. "What we're looking for at the University of Southern California is a leader of men. Somebody that is honest and open and wants to guide our program into the next direction. Graduate student athletes and be honest and transparent with all parents. We're going to cast a wide net across the entire globe. We're gonna look at pros. We're gonna look at college.
"Hell, we'll even look in high school if we have to. We're going to make sure we do our due diligence with background checks on everyone."
USC fired coach Clay Helton following a Week 2 loss to Stanford. It hasn't done much to improve the program in the short term, as the Trojans are still 3-3 overall. Once touted as a Pac-12 championship contender, they will be lucky if they can make it to a bowl game.
Helton led the Trojans to a 45-24 overall record since taking over in 2015. That included a victory in the Rose Bowl during the 2016 season. He is the third head coach since Pete Carroll left the program to take over the Seattle Seahawks in 2008.
USC has also won only one Pac-12 title since then despite leading the conference with 39 total. It's safe to say this is not what is expected from the once dominant football program. Interim coach Donte Williams is the placeholder for now, but a new leader is on the way soon.
As Keyshawn Johnson said, USC is likely to attract big names from both the professional and college world in its search for a new coach. Even with the recent struggles of the team, this job remains one of the most coveted in the sport.
As far as this season, the Trojans will aim to get back above .500 when they face Notre Dame in Week 8 following a bye.