Lincoln Riley recalls the recruitment of Solomon Byrd, reveals how he ended up at USC in the portal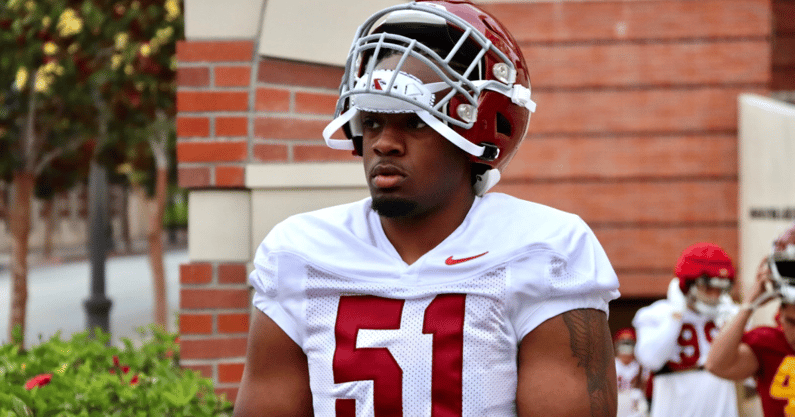 Solomon Byrd is one of the breakout stars for USC after Romello Height's season-ending injury. He was part of a highly decorated transfer portal haul for the Trojans this offseason and made quite an impact against Fresno State.
But he almost didn't end up at USC, according to Lincoln Riley.
Riley said he and the Trojans staff saw Byrd's name go into the portal, but somehow, talks slowed down. However, after spring ball, Riley dove back into the portal and Byrd was still there. He reached back out and, ultimately, got the former Wyoming EDGE to commit.
CLICK HERE to subscribe for FREE to the On3 YouTube channel
"We were talking to him for a little bit and then, for one reason or another — so many portal guys at that time, I've got to get them straight — at some point, the communication between both sides kind of drifted off," Riley said. "It didn't feel like it was going to happen, and then it kind of picked back up again. As time evolved, we just knew we needed another guy.
"We liked what we had. We just didn't have enough others. Then, we've said several times, glad that we made that phone call there towards the end of spring practice to see if he was still interested, and he was."
Lincoln Riley on the message that Solomon Byrd's strong performance sends
In three games this year, Byrd has eight tackles, 4.0 tackles for loss and 3.0 sacks. But his biggest game came against Fresno State when he had four tackles and a key sack — and Riley spoke about what his journey from playing five snaps against Rice to a game like that can do for the rest of the team.
"I think there are so many guys in a college football locker room right now that are in that same position or something like it that he was," Riley said. "For every guy you see out there making plays, there's going to be two or three others at every single position that they want to be the ones out there. That's just the nature of the business. We're not rolling in with 50 guys to play a game. You have big rosters, you have a lot of people, you have a lot of people that want to play.
"For everybody, it is, it's an inspiration. It's a message to keep going because you don't know when that opportunity's going to come. And Solomon was ready when his showed up and he's really just taken it and he's ran with it and he's created more and more opportunities for himself, and it can happen that quick. There are just so many guys that maybe, the first [part] of the season doesn't go their way, and then all of a sudden, bam."