Report: Former USC assistant coach expected to take AAC job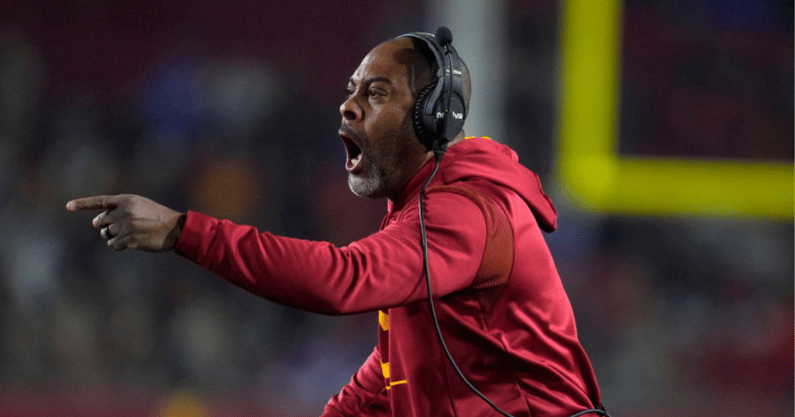 Former USC running back coach Mike Jinks is expected to become the new running back coach at Houston, according to The Athletic's Bruce Feldman. The news comes shortly after On3's Matt Zenitz reported that current Houston running back coach Marquel Blackwell will take on the same role at Ole Miss.
Mike Jinks would join the Houston staff after three seasons under former USC head coach Clay Helton. He has deep local roots as a Converse, Texas native who started his career at seven different in-state high schools before spending three seasons at Texas Tech.
Another report from The Athletic's Antonio Morales suggests Houston initially planned to add Jinks in an off-field role before Blackwell's departure. While the reports from The Athletic have not been confirmed by the school yet, Jinks updated his Twitter profile to reflect his employment at Houston.
The accomplished high school coach and Power Five assistant also had a three-year stint as head coach at Bowling Green, where he went 7-24 from 2016-18 before returning to a position coach role. The move to join Dana Holgorsen's staff brings Jinks back to his coaching running back coaching roots within the air raid concept.
Houston loses running back coach
An earlier report on Thursday morning from On3's Matt Zenitz indicated that Ole Miss is expected to hire Houston assistant Marquel Blackwell as its new running backs coach. That report also identifies Blackwell as a runner-up for the same position on Alabama's staff last season, when Robert Gillespie joined the Crimson Tide.
Marquel Blackwell would bring SEC experience, spending one season at Florida in 2015 as a quality control coach before later spending four seasons with Dana Holgorsen at West Virginia and Houston.
At 42-years old, the former college and NFL quarterback is one of the fast-rising assistants in college football with strong ties in Florida and Texas.
The Rebels recently hired new offensive coordinator and quarterback Charlie Weis Jr. – a former Lane Kiffin assistant at Florida Atlantic – to replace Jeff Lebby, who departed for the same position at Oklahoma. Ole Miss has been busy in the transfer portal, rebuilding its high-powered offense with former five-star running back Zach Evans.
Evans is not just one of the highest-ranked players to enter the portal this offseason, but he's also the highest-ranked Ole Miss commit of the Lane Kiffin era. Kiffin, who has picked up several four-star recruits in his two-year tenure in Oxford, has yet to nab a five-star, and Evans is his first.