Kingsley Enagbare names quarterback he's most excited to sack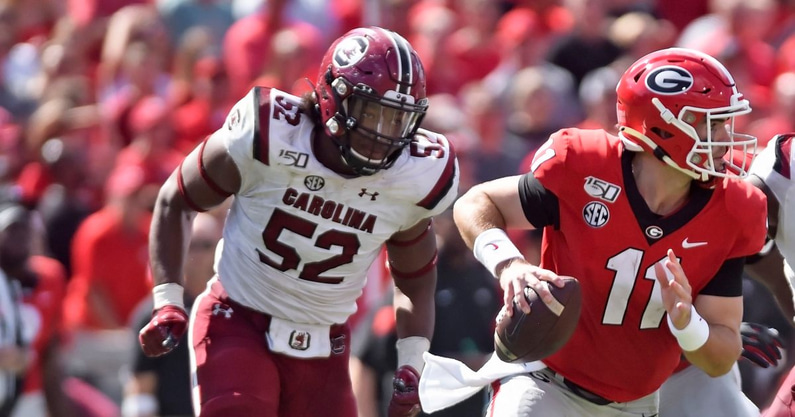 Former South Carolina defensive end Kingsley Enagbare is ready to take on what the NFL has to offer. Enagbare is getting accustomed to his new home after he was selected 179th overall by the Green Bay Packers in the 5th round of the 2022 NFL Draft.
Now that he's in the NFL, Enagbare has a chance to go against some of the best quarterbacks ever to play the game. And on Wednesday, Enagbare named the NFL quarterback he's most excited to sack.
"Probably Tom Brady," said Enagbare. "Yeah, honestly, I was pretty bummed that he retired, and I was able to get my excitement back when I seen him come back two weeks later. So hopefully, I'll get the chance to do that."
One quarterback Enagbare will not be facing off against any time soon is his teammate, reigning two-time NFL MVP Aaron Rodgers. But given the opportunity, would he sack Rodgers in practice?
"I don't know. I think that definitely might give me some trouble; a lot of trouble."
Enagbare ranked as the No. 15 EDGE in the country in the 2018 recruiting class coming out of Hapeville Charter (Ga.) High School. He held scholarship offers from a number of top-tier programs – including Auburn, Georgia, and Tennessee – before choosing to play at South Carolina.
Enagbare explains how he was given nickname JJ
In the 2022 NFL Draft, the Green Bay Packers went heavy on linebackers and defensive linemen. They ended their draft using four picks at those positions. One of those four selections was former South Carolina Gamecocks linebacker Kingsley Enagbare. The Packers selected Enagbare in the fifth round with overall pick No.179.

Last week Green Bay held a brief conference to introduce all of their new rookies ahead of rookie minicamp. And one of the questions Enagbare answered was about his nickname JJ. With the letter J absent from his name, one reporter was curious about how he got the nickname. They also wanted to know what his preferred name could be called.
"Preference? There's really no preference. You can go Kingsley, Kingsley I guess is fine," said Enagbare. "…It was a little cartoon show JJ The Jet Plane that I used to watch when I was a little kid. And it just kinda just stuck with me."
Enagbare, a former On3 Consensus four-star recruit coming out of the Class of 2018, put together a successful collegiate career for the Gamecocks – totaling 121 tackles over four seasons with the program. He had a strong season in 2021, as he made 44 tackles to go along with 4.5 sacks and a forced fumble.