Mike Tomlin says any decision at QB won't be made until next week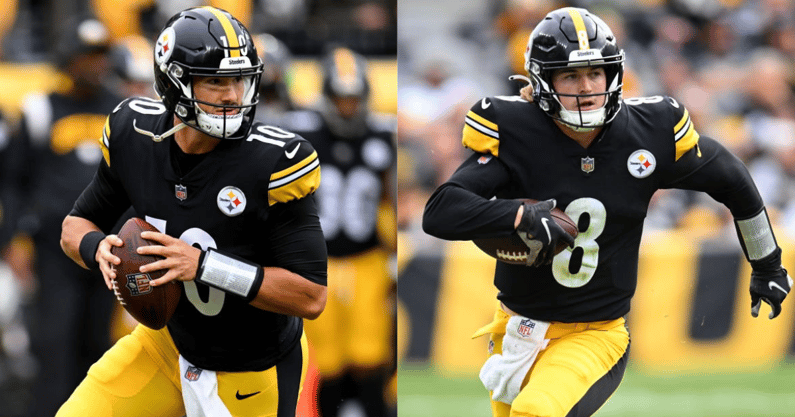 The Pittsburgh Steelers find themselves in a 1-3 hole to start the year after today's loss to the New York Jets. The injury to reigning DPOY TJ Watt hasn't helped, but it's their offense that has caused plenty of concern. All of the focus has fallen upon the Steeler's quarterback spot and who would get the opportunity moving forward between Mitchell Trubisky and Kenny Pickett.
After the 24-20 loss today, Mike Tomlin addressed playing both over the course of the game and what it may mean for next week. Tomlin says inserting Pickett was his idea because the team 'needed a spark'. However, no decision has been made on who will be QB1 for the Steelers for next weekend.
CLICK HERE to subscribe for FREE to the On3 YouTube channel
"We did what we needed to do to put ourselves in position to win this game. We'll do it again," said Tomlin. "I'd like to just keep it where we are in terms of what transpired here today. We'll deal with next week next week."
Trubisky has been the starter during the first four weeks. He put up 485 yards, two touchdowns, and an interception on 60.5% completion through three weeks. In Week 4's game, though, Trubisky completed just 53.9% of his passes for 84 yards and an interception. That's what led to Pickett's insertion to start the second half.
Pickett showed some good and some bad during his debut. He did complete 76.9% of his passes for 120 yards and helped lead a near comeback against the Jets. With that said, he did throw three interceptions with one on his first pass and one on his last.
Mike Tomlin's team can't afford to continue to have this storyline hang over them. It has persisted from during training camp until now to start the season. It's now time for Tomlin to stick to his guns or make the change that plenty are clamoring for. After a third straight frustrating loss, this is the kind of outcome that yet again makes it decision time for Tomlin and the staff.