Vikings release statement after Everson Griffen posts disturbing video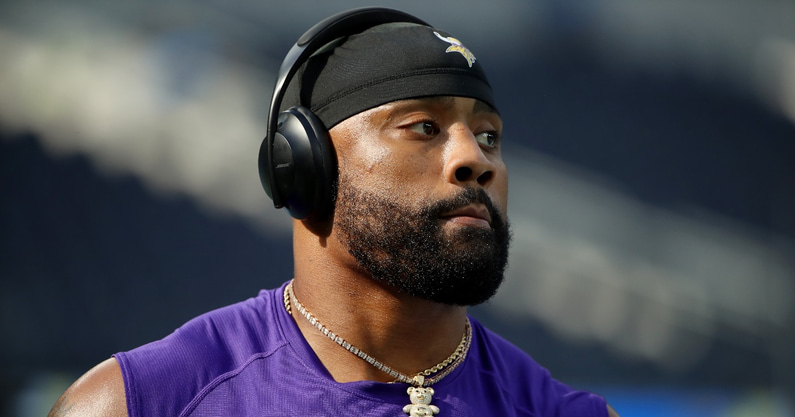 Minnesota Vikings defensive end Everson Griffen released a video on his Instagram early Wednesday morning saying people were trying to kill him in his house. In the video, he is holding a gun.
The following video contains material that may be disturbing to some viewers.
Griffen said in the video that he purchased the gun with the help of Dalvin Cook, Minnesota's star running back.
"Registered to me," Griffen added. "I bought all my bullets around town… It all belongs to me, and they are registered to me."
According to a police report, the Minnetrista Police Department responded to a 911 call from Griffen saying someone was inside of his home, where he resides with his wife and three sons, and he needed the police. He said he had fired a weapon, but no one was injured. Law enforcement did not locate an intruder.
The Vikings released a statement on Wednesday following the incident, per ESPN's Adam Schefter.
"Vikings representatives and the team's mental health professional have been on-site at Everson Griffen's home since early this morning and are cooperating with law enforcement," the statement reads. "Our only concern at this time is the safety and well-being of Everson and his family. We will have further comment at the appropriate time."
Minnesota head coach Mike Zimmer was made aware of the issue early this morning.
Griffen has a concerning mental health past
The defensive end has a history of mental health concerns. In 2018, the Vikings sent him a letter stating he could not return to playing with the team until he underwent a mental health evaluation. A few days later, Griffen was involved in an altercation when he allegedly threatened to shoot someone at a hotel who would not let him into their room.
Griffen was "growing increasingly paranoid and feared someone was trying to kill him in the weeks and days" just prior to the 2018 incident, according to the Minnesota Star-Tribune.
He went to a hospital for an evaluation shortly thereafter.
Griffen, 33, has been in the NFL since 2010 after playing college football at USC. He spent 2010-2019 with the Vikings and 2020 with both the Cowboys and the Lions. He returned to Minnesota this season.
The Arizona native is a four-time Pro Bowler and was second-team All-Pro in 2017. He has 403 total tackles, 85.5 sacks, 10 forced fumbles, six fumble recoveries, two interceptions and 20 pass break ups in his career.