WATCH: Denver Broncos release emotional tribute to Demaryius Thomas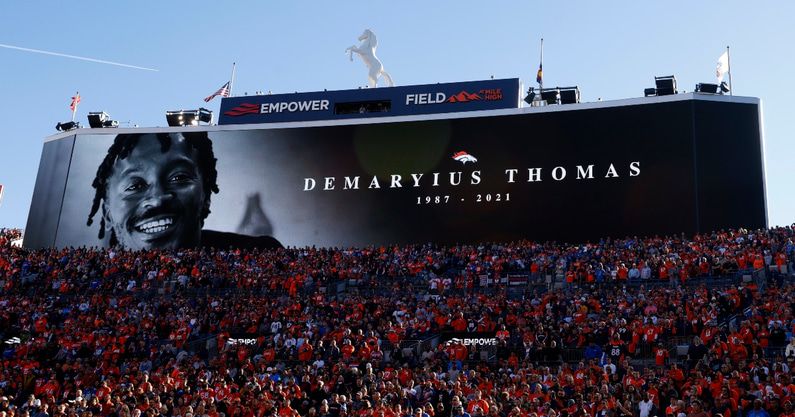 The NFL was blindsided to learn of the recent passing of former Denver Broncos wide receiver Demaryius Thomas. Thomas, who was just 33, likely passed away due to a seizure. Since the passing of Thomas, the Broncos have honored him in multiple ways. On Monday night, the Broncos tweeted an emotional tribute video to honor the late wide receiver.
Thomas enjoyed a ton of success during his NFL career, most of which he spent with the Broncos. He had 1,000 receiving yards in five of his 11 NFL seasons. Thomas was also a four time Pro Bowler, and he finished his career with 9,763 yards and 63 touchdowns. He spent nine years with the Broncos, where he totaled 9,055 receiving yards over nine seasons, ranking him second in franchise history.
Thomas just retired from the NFL in June of 2021. He also played for the Houston Texans, New England Patriots and New York Jets. Thomas played college football for the Georgia Tech Yellow Jackets.
New information has surfaced surrounding Thomas' death. One of his cousins, LaTonya Bonseigneur, said that his death was likely from a seizure, something that he has had issues with in the past.
"He had been suffering from seizures for over a year, and we believe he had a seizure when he was showering," Bonseigneur said. "We're not sure when he died. We just spoke with him yesterday."
The Broncos have continued honoring Thomas since his passing
Denver hosted the Detroit Lions last Sunday. At that game, the Broncos set up a memorial outside the stadium to honor Thomas.
Additionally, the Broncos honored Thomas on the first play of that game against the Lions. Denver lined up with ten men on the field on the opening play of the game. The Broncos took a delay of game penalty, which was declined by the Lions. Thomas' position was left open on the field, and both teams sat and waited for the play clock to strike zero. As the play clock winded down, the crowd got louder and louder, cheering and honoring the late wide receiver.
Thomas was selected with the 22nd overall pick in the first round of the 2010 NFL Draft by the Broncos out of Georgia Tech. In his three-year career with the Yellow Jackets, he caught 120 passes for 2,339 yards and 15 touchdowns.