Devonte Wyatt reveals excitement to talk to Packers star Kenny Clark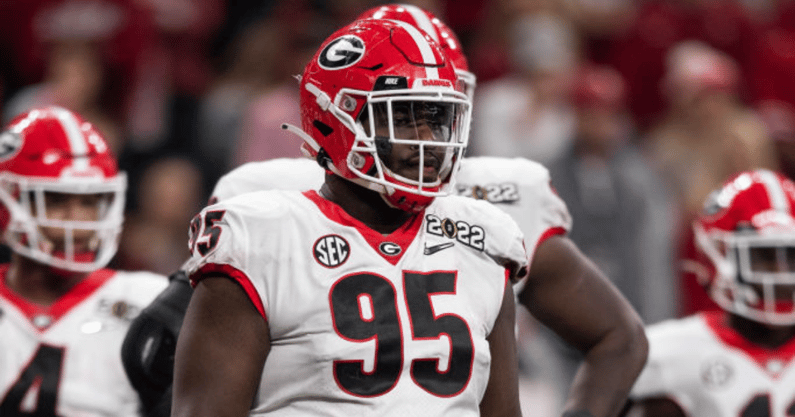 As he gets ready to play for the Green Bay Packers, Devonte Wyatt is getting to play with Kenny Clark — someone he looked up to during his football career. He shared the emotions he felt while talking to Clark shortly after the Packers drafted him.
Clark has been a staple in Green Bay since 2016, making two Pro Bowls after a standout career on the UCLA defensive line. Now, he'll have Wyatt joining him after he helped the Georgia defense become the best in college football last year en route to a national championship.
CLICK HERE to get 30% OFF your Georgia Bulldogs National Championship apparel
Wyatt was a staple of the Bulldogs defensive line, and now he'll try to do the same alongside Clark after Green Bay drafted him No. 28 overall in the 2022 NFL Draft. In fact, Clark called him, and it added to the excitement.
"I love Kenny," Wyatt said. "Kenny just called me. I was so, so happy to hear his voice. … I grew up watching Kenny. He was like my No. 1, top-two defensive tackle. Just getting that call from him, I was happy. I felt welcome already. It's just an amazing feeling just to have that type of caliber player call you. Kenny is … definitely one of the top defensive tackles in the NFL."
Devonte Wyatt makes bold declaration about Packers defense
Devonte Wyatt knows a thing or two about being a top-ranked defense. He was a huge part of Georgia's unit this past year which helped lead the Bulldogs to their first national championship in 40 years.
That's why his bold declaration was interesting during his introductory call after the 2022 NFL Draft.
Wyatt went to the Green Bay Packers as the No. 28 overall pick, joining fellow former Bulldog Quay Walker, who was the Packers' pick at No. 22 overall. Those two helped anchor the Georgia defense that ranked No. 1 in the country last year, and Wyatt said the current unit — along with the newcomers — could make the Packers just as dangerous as Georgia was.
"You've got a lot of older guys with a lot of great, young talent coming in," Wyatt said. "For us to come in and be with the older guys, I feel like we might be the No. 1 defense this year."