Alabama football countdown to kickoff: 88 days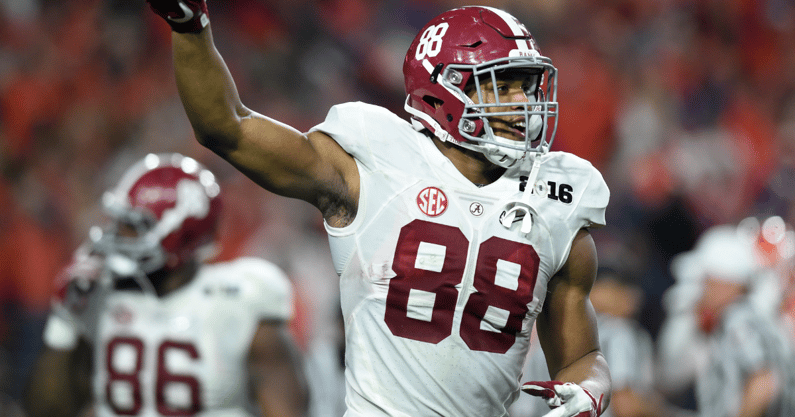 If you can believe it, we are officially under the 100-day mark until Alabama is back on a live-game football field. After coming up short in the national championship game against Georgia back in January, the Crimson Tide will once again be searching for its seventh title under Nick Saban.
This year's season opener will be against the Utah State Aggies on Sept. 3 at Bryant-Denny Stadium. With today being June 7, that means we are only 88 days away from the return of Alabama football. The team here at BamaOn3 is ready to celebrate every day of the countdown standing between now and then.
With opening week 88 days away, let's focus on a player — both past and present — who has represented that number.
*Note: BamaOn3 is also doing a Countdown to Fall Camp, which is only 59 days away.
Who currently wears the No. 88?
Similar to the No. 89, there isn't currently a scholarship player wearing the No. 88 for Alabama. That ended with tight end Major Tennison graduating and moving on. That being said, walk-on wide receiver Jacoby Boykins will wear it this upcoming season. He's a second-year pass-catcher out of Houston (Tex.) Lamar.
Who's a noteworthy former player to wear it?
We could've gone is a couple of directions with this number. Former wide receiver Ray Perkins, who played at Alabama from 1964-66, was a strong candidate, but we decided to go with a more recent player. Someone from the Nick Saban era who turned out to be a first-round draft pick back in 2017 — O.J. Howard.
Howard is a former five-star tight end who made his way to Tuscaloosa back in 2013. The Prattville (Ala.) Autagua Academy product wasn't an instant starter, but he did play in all 13 games as a freshman with five starts. From there, his playing time and targets steadily grew.
2013: 14 receptions, 269 yards, 2 TD (13 games)
2014: 17 receptions, 260 yards (14 games)
2015: 38 receptions, 602 yards, 2 TD (15 games)
2016: 45 receptions, 595 yards, 3 TD (15 games)
Now, any Alabama fan who kept up with Howard's career could tell you that he was underutilized.
In two national title appearances in 2015 and 2016, the 6-foot-6, 250-pounder hauled in nine catches combined for 314 yards and three touchdowns. If you can believe it, those were in the only two games where Howard broke the 100-yard mark. That sort of usage should've been more of the norm.
Still, his elite combination of size and athleticism helped him become a Day 1 selection (No. 19 overall) by the Tampa Bay Buccaneers back in 2017.
Despite numerous injuries, Howard's NFL career got off to a decent start. Over his first three seasons (38 games), he turned his 140 combined targets into 94 receptions, 1,456 yards and 12 touchdowns. The last two years have been a different story, however.
He missed most of the 2020 season due to a torn Achilles, bringing in 11 receptions for 146 yards and two scores in four games. Then this past season, he finally stayed healthy for the first time in his career, but he still only caught 14 passes for 135 yards and one touchdown.
Now, he's getting a fresh start after signing a one-year deal with the Buffalo Bills in free agency. Yes, former Ole Miss tight end Dawson Knox is the team's starter, but Howard should at least be a steady contributor for one of the league's top Super Bowl contenders. Hopefully, he'll be able to get his career back on track.
2022 Alabama Football Schedule
Sept. 3 vs. Utah State Aggies (Tuscaloosa, Ala.)
Sept. 10 at Texas Longhorns (Austin, Tex.)
Sept. 17 vs. UL-Monroe Warhawks (Tuscaloosa, Ala.)
Sept. 24 vs. Vanderbilt Commodores (Tuscaloosa, Ala.)
Oct. 1 at Arkansas Razorbacks (Fayetteville, Ark.)
Oct. 8 vs. Texas A&M Aggies (Tuscaloosa, Ala.)
Oct. 15 at Tennessee Volunteers (Knoxville, Tenn.)
Oct. 22 vs. Mississippi State Bulldogs (Tuscaloosa, Ala.)
Oct. 29 – OPEN WEEK
Nov. 5 at LSU Tigers (Baton Rouge, La.)
Nov. 12 at Ole Miss Rebels (Oxford, Miss.)
Nov. 19 vs. Austin Peay Governors (Tuscaloosa, Ala.)
Nov. 26 vs. Auburn Tigers (Tuscaloosa, Ala.)
Dec. 3 – SEC CHAMPIONSHIP GAME (Atlanta, Ga.)