Auburn QB Zach Calzada decides on medical redshirt, will miss remainder of season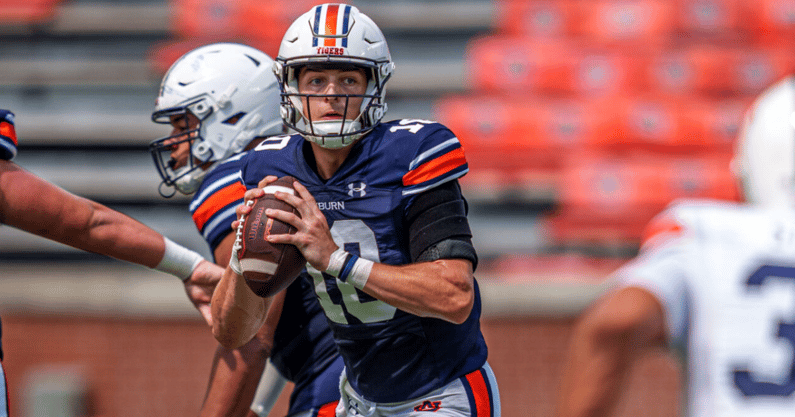 AUBURN – Auburn will be without Zach Calzada for the remainder of the season, sources tell Auburn Live.
The sophomore quarterback transfer from Texas A&M plans to schedule a second surgery on his non-throwing shoulder in the coming weeks. Calzada will apply for a medical redshirt and if granted, will still have three years of eligibility remaining.
It was a difficult decision for Calzada, sources around the Auburn program tell Auburn Live. The redshirt sophomore competed for the quarterback position, remained prepared to play, as head coach Bryan Harsin said on Wednesday, and was available to play since the season started nearly one month ago.
Until the surgery, Calzada will continue his work on the scout team and helping prepare the Tigers' defense.
The surgery calls for a four-month rehabilitation time, which will allow Calzada to be prepared for spring practice. Being fully healthy for spring practice, something Calzada wasn't this past spring, was an important part of his decision. Calzada initially injured his left shoulder against Auburn last season on November 6.
The decision comes two days after Auburn Live confirmed reports that T.J. Finley will miss this Saturday's game against Missouri with an injured shoulder. Finley could miss multiple games. Harsin and offensive coordinator Eric Kiesau are left with redshirt freshman Robby Ashford and true freshman Holden Geriner as primary starting quarterback options against Missouri.
Sources tell Auburn Live that Ashford is expected to start, with Geriner in the game plan to receive the first playing time of his collegiate career.
With Auburn trailing Penn State by double digits in the second half, Harsin and Kiesau contemplated inserting Calzada into the game. Harsin admitted as much afterwards, saying they "talked about it," but ultimately decided to keep Ashford in the game.
The decision by Harsin and Kiesau to not play Calzada came days after he took some first-team repetitions during practice leading up to the Penn State game.
Calzada's initial surgery following his last season at Texas A&M involved repairing his labrum. Labrum repair is surgery that treats a torn labrum. Labrum repair relieves symptoms and restores joint stability, strength, and range of motion. The upcoming second surgery is a fairly routine procedure that generally follows an initial labrum repair.
The 3-2-1: Three things learned, two questions, one prediction after Auburn's loss to Penn State
Following offseason shoulder surgery and transfer to Auburn, Calzada missed important parts of spring practice while recovering. Calzada participated in throwing drills, but was held out of all 7-on-7 and 11-on-11 competition, and any other activities that involved contact.
Harsin said at SEC Media Days in July that Calzada has "been awesome." Harsin added, "it was about what it takes to be successful at the position. The work ethic, the focus, attention to detail, that's become his foundation. We appreciate it."
The Tigers' quarterbacks have struggled through three games. Finley has thrown for 431 yards, completed 62 percent of his passes, and thrown one touchdown to four interceptions. Finley also fumbled twice against Penn State, only losing one. Ashford has thrown for 245 yards, completed 51 percent of his passes, and thrown one touchdown to two interceptions.
Sources also tell Auburn Live that as of the date and time of this report, Calzada plans to rehab at Auburn and remain at Auburn, working towards competing for the quarterback position in the spring.