Clemson expected to get back two starters for matchup with Gamecocks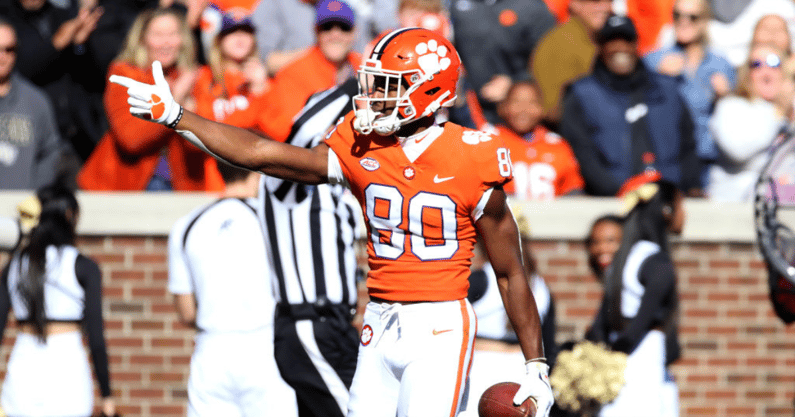 Clemson played one of its best games of the season this past weekend against Miami and did so without a pair of starters.
The Tigers are expected to get them back this week as Dabo Swinney announced on his call-in show Monday night that Bryan Bresee and Beaux Collins should play against South Carolina.
Collins missed each of the past two games after suffering a shoulder injury at Notre Dame. Bresee couldn't play against the Hurricanes because of strep throat.
Swinney said that he expects both players to be "ready to roll."
"Still gotta go through the week. Obviously anything can happen, but I think we're in a pretty good spot," Swinney said of Clemson's injury situation.
While the Tigers are a healthy team overall, they will be without starting left guard Marcus Tate on Saturday.
Tate left the Miami game in the first half with a knee injury and did not return. He will have surgery and miss the rest of the season.
Tate was replaced by junior offensive lineman Mitchell Mayes. The versatile player has appeared in eight games this season, with one start.
Prior to coming in off the bench for Tate against Miami, Mayes started at right guard against Louisville as Walker Parks was unable to play.
"We lost Marcus Tate, so that was a big loss, but thankful that Mitchell Mayes has been able to play. He got that start in Walker Parks' spot in the Louisville game and played well," Swinney said. "Then came back this past week and played 68 plays or so. So that's a real good thing for us. He played pretty good, too. Had two or three players here or there, but he really was active and did a nice job."
Clemson will host the Gamecocks on Saturday at Noon at Memorial Stadium.
The Tigers are favored by 14.5 points. Clemson has won seven consecutive games in the series, with South Carolina's last win coming in 2013. The two rivals did not play in 2020 due to COVID-19.
Clemson enters the matchup 10-1 and still has a shot to reach the College Football Playoff. The Tigers' lone loss of the season came at Notre Dame earlier this month.
South Carolina is 7-4 entering Saturday's game and is coming off of its biggest win of the season. The Gamecocks beat No. 5 Tennessee 63-38 this past Saturday.