Freshman cornerback Devin Moore out for the season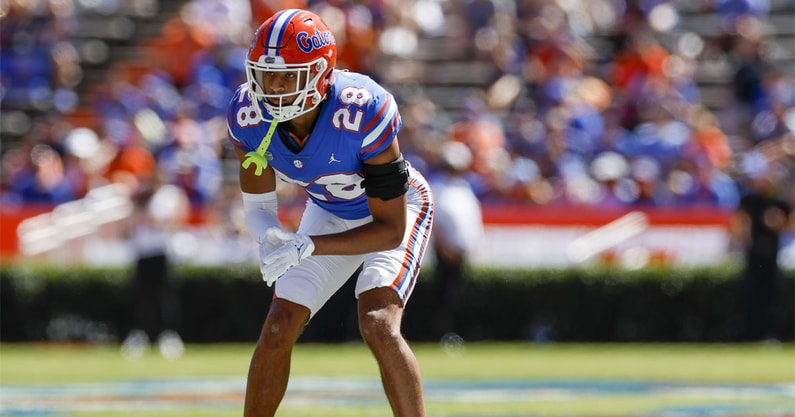 GAINESVILLE, Fla. — Florida Gators freshman cornerback Devin Moore will miss the rest of the 2022 football season. The cornerback from Naples underwent successful shoulder surgery on Wednesday, which will sideline him for the last four games and postseason play.
"Devin had a shoulder and truth be known, this was an injury that he had when he arrived. It was uncovered during the first few weeks of the season," Billy Napier said of Moore on Wednesday night. "He showed great toughness, he played with it for a little while and then it got to a point where he's not able to participate. Devin had surgery today and certainly will be out. We're hopeful that we'll have him back for the offseason program and spring practice."
Moore enrolled at Florida in the spring and instantly made his presence known. Moore received playing time right away against Utah and played in the first five games of the season before the injury sidelined him. He'll finish his freshman campaign with six tackles, four solo.
"His ball skills," Jason Marshall said of what stands out about Moore. "His size. Like I said, his understanding of the game, and coach (Corey) Raymond, you know, he instills that in not only his head, but everybody's head, to understand the game, read your keys, knowing where your eyes is. Things like that I feel like (have) helped him a lot."
The Gators secondary without Moore
Moore was pushing Avery Helm for more playing time before the injury. Helm lost his starting role when Jaydon Hill returned from ACL surgery and had a subsequent setback during his recovery.
"I think that secondary, in particular, is a position, much like our entire team, where we play well at times but we're a little bit inconsistent at times," Napier said prior to Florida's win over Eastern Washington. "I think each position on our team — sometimes the magnifying lens gets put on certain plays or certain situations as they follow the ball, but I do think that they're much like every position on our team. They do a lot of things well, but we're looking for more consistency."