Charlie Condon named SEC Freshman of the Year, other Georgia awards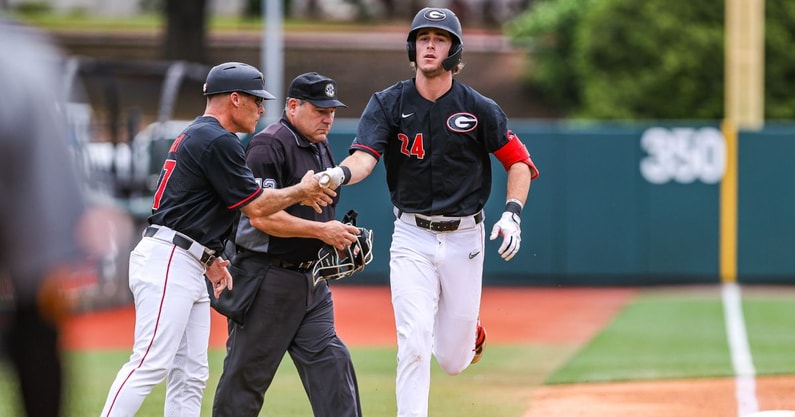 A pair of Georgia players took home league-wide SEC Baseball awards on Monday for the 2023 season. First baseman/outfielder Charlie Condon was named SEC Freshman of the Year after what's been an outstanding redshirt freshman campaign for the Marietta, Ga. native while graduate student Ben Anderson earned co-SEC Student-Athlete of the Year. He shared the award with Alabama's Andrew Pinckney.
Condon is among SEC leaders in batting (.393), hits (81) and RBI (67) this season. His 25 home runs is an SEC freshman record and breaks the previous mark that stood for over a decade of Vanderbilt's Pedro Alvarez, eventually drafted No. 2 overall by the Pittsburgh Pirates.
During the season, Condon had a 37-game on base streak and 24-game hit streak. He hit a home run in each of Georgia's 10 SEC series and leads the league for home runs in conference games with 16.
Condon's 25 home runs ranks only behind Gordon Beckham from the 2008 season when the Bulldogs reached the College World Series Finals. That team played 71 games. So far, Condon and company have only suited up for 55.
Condon was also selected to the All-SEC Second Team and named a semifinalist for the Golden Spikes Award, one of 25 across the country for the award that goes annually to the top amateur baseball player in the U.S.
"Charlie is a hard worker and obviously very talented, and he comes to work every single day," Georgia head coach Scott Stricklin said in a statement about Condon. "You look at him, and he's got the skill set. He was 195 pounds last year when he got to campus. The idea to redshirt him last year was like a football mentality with an offensive lineman where you put some weight and strength on him and see where he goes. If you would've told me he was going to hit 25 home runs, I don't know if I would've believed that. He did everything in the last 365 days to prepare for today. He's a great kid and deserves it."
As for Anderson, who hols a degree in biochemistry and is pursuing a master's in biomedical sciences with plans to attend medical school after his playing career is over, his accomplishments are equally as impressive. Anderson earned an NCAA postgraduate scholarship, the first Georgia player to do so. He was also named SEC Scholar-Athlete of the Year last year.
On the field, Anderson has started 51 games in center field, posting a .282 batting average with 12 doubles, three triples and five home runs. He has 28 RBI and a perfect fielding percentage to his name.
Condon and Anderson aren't the only Georgia players to be recognized either. Catcher Fernando Gonzalez earned a spot on the All-Defensive Team after appearing in 43 games with 41 starts. Gonzalez has a .994 field percentage with 293 put outs, 20 assists and just two errors. An elbow injury sidelined him at one point during the season and has prevented him from playing in the field as of late. However, Gonzalez has been in the lineup still as a designated hitter, batting .232 with nine doubles, six home runs and 25 RBI on the season.
Georgia suits up for what could be the final time this season on Tuesday against South Carolina in the SEC Tournament. The Bulldogs and Gamecocks get things going at Hoover (Ala.) Metropolitan Stadium at 10:30 a.m. ET on SEC Network with the winner advancing to the double-elimination portion of the bracket while the loser goes home.