Georgia freshman forward KyeRon Lindsay enters transfer portal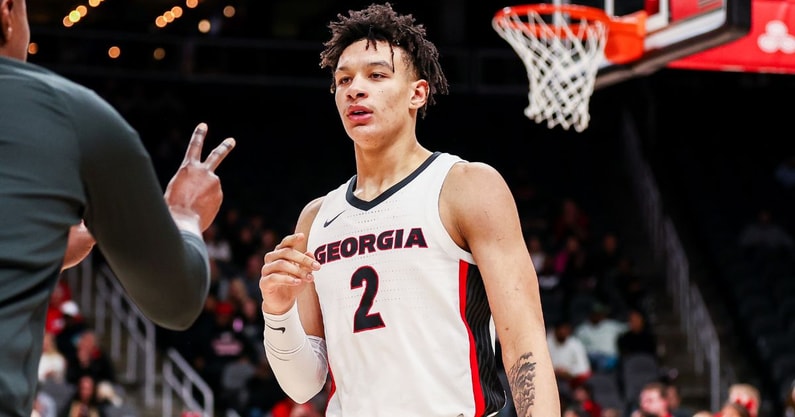 Georgia Basketball's KyeRon Lindsay entered the transfer portal on Wednesday not even halfway through his first season on campus in Athens. DawgsHQ has confirmed the news.
The freshman from Denton, Texas had started eight games and played in 10 for Georgia prior to his departure, averaging 6.2 points and 5.2 rebounds per game. Highlights of his season included a double-double in his first career home start with 14 points and 10 rebounds against Miami (OH) and playing 31 of 40 minutes in just his second career collegiate game at Wake Forest.
Lindsay committed to Georgia in the spring as a part of the new era of Bulldog Basketball under head coach Mike White. Previously a UNLV commit, the 6-foot-7, 215-pound Guyer (Denton, Texas) product was ranked the No. 110 player in the country and a borderline top-15 player at his position according to On3's in-house rankings. The industry composite On3 Consensus, which equally weights each of the recruiting industry's four biggest rankings at 25%, had him at No. 118 overall and No. 20 among power forwards.
"Kye, I think he's been pretty good from a freshman standpoint," Georgia junior guard Kario Oquendo said of Lindsay druing SEC Media Days. "I feel like, he's just one of the guys that I want to talk to. Like, I want to tell him, 'Alright, if you're doing this wrong,' just to get the aspect right. I think at the beginning he thought I was doing a little bit too much, but, like, I think every day he's improving as a player, and you'll see it on the court."
Lindsay himself spoke with the media too. After his double-double against Miami (OH), the freshman forward shared some thoughts he had been having early in his career.
"The school, the education and then the sports, everything here is a part of the environment," Lindsay told reporters when asked about his decision to choose Georgia late in the recruiting process and his integration into college ball. "… It's been weird managing my time with school and all while on the road and the better competition. I'm not the only jump out the gym, energy, athletic guy. It's all about finding my spot on the team. Right now, it's just doing whatever I can when I can since I'm a freshman."
"My teammates pick me up, talk to me on the bench, coaches talk to me on the bench and tell me I'm doing good. I'm just trying to do whatever helps our team win: dive on the floor, loose balls, anything like that," Lindsay added. "I try to keep the most energy and do what I can, whatever that is, talking, yelling, diving on the floor or even sitting on the bench cheering, I'll do whatever. As long as we're winning I'm straight."
Georgia is 9-3 on the season and has one game remaining in non-conference play before beginning its SEC schedule in January. The Bulldogs won without Lindsay on Wednesday over Chattanooga.