Iowa WBB Tip Time Preview - at Ohio State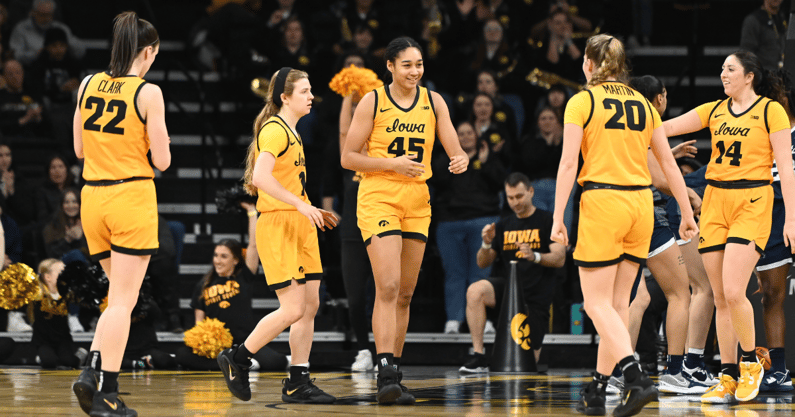 TIME: 6:00pm
TV: ESPN2 – Carolyn Peck and Courtney Lyle
SERIES: 74th Meeting – Ohio State leads the all-time series 37-36
THE NUMBERS
OFFENSE: IOWA: 87.9 PPG, 50.0% FG, 37.0% 3PT, 13.6 TO OHIO STATE: 86.3 PPG, 48.5% FG, 35.2% 3PT, 13.7 TO
DEFENSE: IOWA: 70.6 PPG, 39.9% FG, 30.6% 3PT, 15.2 TO, +5.7 REB MARGIN OHIO STATE: 62.9 PPG, 40.5% FG, 26.1% 3PT, 23.1 TO, +0.1 REB MARGIN
PROJECTED LINEUPS
IOWA HAWKEYES
6'0 PG Caitlin Clark – 26.7 PPG, 7.6 REB, 7.5 AST, 36.5% 3PT
6'0 G Kate Martin – 6.6 PPG, 3.6 REB, 3.0 AST, 46.9% 3PT
5'9 G Gabbie Marshall – 4.5 PPG, 30.4% FG
6'1 F McKenna Warnock (Questionable) – 11.9 PPG, 5.9 REB, 44.0% 3PT
6'3 C Monika Czinano – 17.9 PPG, 6.6 REB, 65.1% FG
OHIO STATE BUCKEYES
5'11 G Taylor Mikesell – 18.5 PPG, 3.3 REB, 40.1% 3PT
6'0 G Taylor Thierry – 12.2 PPG, 6.5 REB, 66.9% FG
5'10 G Rikki Harris – 7.1 PPG, 4.6 REB, 3.3 AST, 34.8% FG
6'0 F Cotie McMahon – 12.5 PPG, 4.1 REB, 51.1% FG
6'4 F Rebeka Mikulasikova – 14.6 PPG, 5.4 REB, 37.9% 3PT
IOWA PLAYER TO WATCH: F Hannah Stuelke
It is unclear at this time if McKenna Warnock will be available to start for the Hawkeyes, as Lisa Bluder said she is "day-to-day" coming into the matchup. Even if she can go, it will likely not be at 100% and that will mean that freshman Hannah Stuelke will be forced to take a bigger role in the teams biggest game of the season.
Since coming back from the holiday break Stuelke has scored 59 points in 75 minutes on the floor, as well as 35 rebounds, including 13 offensive rebounds. The one concern is foul trouble. Stuelke has committed 32 fouls in 129 this season, which averages out to 9.9 fouls per 40 minutes. That could be an issue if she plays extended minutes, especially with the physical style that Ohio State likes to play.
OHIO STATE PLAYER TO WATCH: F Rebeka Mikulasikova
The 6'4 Slovakian forward is a matchup nightmare for opponents because she is dangerous inside and outside for the Buckeyes. Mikulasikova is ranked seventh in the Big Ten with a 50.5% shooting percentage and averages 5.4 rebounds per game. She also can step out and hit the three, as she averages 4.6 per game and shoots them at a a 37.9% clip.
Last year in Iowa City, Mikulasikova knocked down five three-pointers in the Buckeyes 92-88 victory. She has logged ten games with 15+ points, including two games with five three-pointers made.
LISA BLUDER TALKS OHIO STATE
"They have four people in double figures and that's really really hard to guard, so an excellent basketball team, but you know, I feel like we're playing pretty good basketball right now."
"They are going to be really really good. They are one of the very top teams in the country. A team that is predicted right now to be in the Final Four. A great, balanced team and very hard to defend."
"When you're playing Ohio State, it's going to be a physical game. I do expect a physical game certainly. It's going to be full court pressing the whole time. Last year we made them take off their press because we did a good job of beat it. We have to go into the game with the mindset that we are going to be pressed the whole game and if they have to take it off great."
"They read the newspaper. They can read the record on the scouting report that they're undefeated and they know this is a great opportunity. They don't need me to hammer that home to them. If we want to be Big Ten champs, they know that this is an important game for that."
THE PICK
The Buckeyes have gotten off to their best start in school history at 19-0 and have risen to the #2 spot in the AP Poll. Their resume has some pretty good wins, including a 7-0 record against Quad 1 teams and 4-0 against Quad 2 teams. They have ranked wins against #14 Michigan, #21 Illinois and #23 Oregon.
Injuries have hit the undefeated Buckeyes on two different occasions, but it has not seemed to phase a team that still ranks in the top 15 in offensive and defensive rating. First it was AP Honorable Mention All-American G Jacy Sheldon after five games. She is expected to be back at some point this season, but then it was G Madison Greene going down after 12 games. Still, Ohio State has rolled on.
Taylor Mikesell has potential All-American talent level and is averaging the fourth most points in the Big Ten at 18.5 per game. She is averaging 9.0 three point attempts per game and is shooting it at a 40.1% clip from behind the arc. Her game has changed a bit this year, as 52.1% of her shot makes have come from inside the arc. That is nearly a 5% increase from 47.7% last season.
Rebeka Mikulasikova was previously mentioned for her ability to be a matchup issue. She is averaging 14.6 points per game and is second on the team in three point makes. She also is second on the team with ten games with 15+ points scored. Rikki Harris has taken over the point guard position and has started the last seven games. Harris is the only starter not averaging in double figures at 7.1 points per game, but leads the team with 63 assists. Since entering the starting lineup she is averaging 9.3 points and 5.3 assists per game. Harris has struggled shooting as of late, as she is just 6/24 (25%) over her last three games.
Rounding out the starting lineup is a pair of players that have really been crucial to the Buckeyes ascent to #2 in the rankings. True freshman Cotie McMahon was rated the #23 recruit in country by ESPN and has showed it averaging 12.5 points and 4.1 rebounds per game. She has scored 20+ points six times, including a 30 point game against South Florida. She is not a threat from outside, but shoots 56.5% inside the 3pt line.
Taylor Thierry averaged just 2.9 points as a true freshman last year, but has jumped up to 12.2 points and 6.5 rebounds per game this season. She has scored in double figures 13 times, including a career-high 23 points against South Florida. Thierry is shooting an outstanding 72.0% from 2pt range and leads the team with 56 offensive rebounds.
Off the bench , Coach Kevin McGuff has cut the options down significantly with the injuries that have occurred. In their recent game against Nebraska, the Buckeyes had just one bench player log more than five minutes on the floor.
G Heyvnne Bristow has been the most effective averaging 5.2 points and 3.7 rebounds per game, while averaging 12.2 minutes per game. Over the last three games she has scored 24 points on 8/15 shooting and has grabbed 22 rebounds. F Eboni Walker (3.7 pts, 2.6 reb, 10.9 mins) and G Emma Shumate (1.9 pts, 1.2 reb, 10.8 mins) are the other two that may see the floor tonight. Walker is coming off a season-high eight points and six rebounds against Northwestern.
Here are some important stats going into the matchup…
2pt FG: Iowa 3rd (57.9%) Ohio State 7th (55.5%)
3pt FG: Iowa 18th (37.0%) Ohio State 43rd (35.2%)
3pt Rate: Iowa 80th (37.6%) Ohio State 130th (34.7%)
TO: Iowa 37th (13.6) Ohio State 40th (13.7)
Steals: Ohio State 4th (13.4) Iowa 158th (7.8)
Off Pts/100 Possessions: Iowa 7th (113.1) Ohio State 15th (110.3)
Def Pts/100 Possessions: Ohio State 14th (80.3) Iowa 134th (90.7)
Possessions Per Gm: Ohio State 12th (77.7) Iowa 17th (76.7)
Off Rebounding: Ohio State 208th (29.8%) Iowa 292nd (26.7%)
Def Rebounding: Iowa 9th (76.3%) Ohio State 142nd (69.9%)
This is a huge game for both teams because it is a chance to add a top ten win to the resume, as well as pick up a crucial win in the Big Ten Title race. This was a hotly contested game in Iowa City last year with physical and sometimes chippy play. It would not be shocking to see the same type of game tonight and handling the pressure, as well as the physicality will be a big key for the Hawkeyes.
The big question? Can McKenna Warnock play and if she can, how effective is she? Hannah Stuelke has been quite the spark off the bench so far in the second half of the season, but losing Warnock from the lineup would mean losing a very reliable three point shooter and free throw shooter.
WarrenNolan.com has the Buckeyes coming away with an 83-73 victory. That is not a bad pick considering it is at Value City Arena and they play a physical style of play that sometimes bothers Iowa. Ultimately, this should be a pretty close game and it feels like a game where Caitlin Clark will go for about 35 to help the cause, but in the end the Hawkeyes will fall short. OHIO STATE 86 IOWA 80