Jayden Daniels and the red-hot LSU offense keep rolling
The LSU offense is the best in college football, and quarterback Jayden Daniels just shook up the Heisman Trophy odds.
Following the game, Brian Kelly – who has been a head coach for 30-plus seasons – said Daniels is the best player he's ever coached.
On Saturday night in Death Valley, Daniels and LSU's offense put on a show in a 56-14 win over Georgia State, a Sun Belt program that was already bowl eligible headed into the final two weeks of the season.
The Tigers scored touchdowns on all eight drives that Daniels was in the game, a run that stretched into the opening minutes of the fourth quarter.
By night's end, Daniels hit 509 total yards and eight touchdowns, while star wide receiver – and potential Biletnikoff Award winner – Malik Nabers caught eight of nine targets for 140 yards and two touchdowns.
Daniels came into the week with the most all-purpose yards in college football, and he officially joined the "3K-1K Club" in the third quarter. Daniels entered the night with 3,000-plus yards passing in 10 games. In his 11th game, Daniels surpassed 1,000 yards rushing on the season.
By night's end, Daniels was 25-for-30 passing for 413 yards and six touchdowns to go along with 10 rushes for 96 yards and two touchdowns.
That's a combined 509 total yards and eight touchdowns, keeping LSU's star quarterback firmly at No. 1 in the NCAA in total yards and total touchdowns through 11 games.
Now, Daniels has accounted for 3,577 passing yards and 36 passing touchdowns. He's also rushed for 1,014 yards and 10 touchdowns across LSU's 11 games this season.
Daniels now leads the NCAA with 4,591 yards and 46 touchdowns. And he's carrying his best Heisman Trophy odds to date, sitting just behind Oregon's Bo Nix.
Here's the recap of how the win unfolded for LSU.
FIRST QUARTER
(Georgia State wins the toss and elects to receive)
Georgia State wasted no time taking advantage of an LSU defense that has struggled all season.
After winning the coin toss, Georgia State elected to take the ball first. And the offense marched 71 yards in eight plays for the score.
On the opening drive, LSU forced a 3rd-and-3, but GSU converted with a 31-yard pass play on freshman cornerback Ashton Stamps.
After Stamps was hit with a pass interference on 2nd-and-6 from the 21-yard line, the GSU offense got the ball at the 6-yard line, and after two pass attempts, quarterback Darren Grainger hit Tailique Williams for the touchdown.
Georgia State 7, LSU 0 – 11:53 remaining in first quarter
LSU quarterback Jayden Daniels is hoping to push for the Heisman Trophy, and he immediately made his mark.
On the first LSU drive, LSU went 75 yards on seven plays to tie the game – and a mix of Daniels running and passing got the touchdown.
After converting an early third down with his legs, Daniels took off on a 29-yard run to put the ball at the Georgia State 33-yard line.
LSU tight end Mason Taylor and wide receiver Kyren Lacy combined for catches to get another first down, then Daniels hit Nabers for 18 yards and the touchdown.
LSU 7, Georgia State 7 – 9:20 remaining in first quarter
The GSU offense was able to convert on a third down and move the chains again on second down, but a holding call on 3rd-and-6 backed the offense up and ultimately led to the first punt of the game.
While LSU typically fair catches all punts, walk-on Javen Nicholas grabbed the short punt off the bounce before it got to return man Gregory Clayton. Nicholas returned it 27 yards, which was LSU's longest punt return of the season after only returning two punts in the prior 10 games.
After a holding call on LSU offensive lineman backed LSU up to 1st-and-20 following an 11-yard run by Daniels on the drive's opening play, the offense used a combination of Josh Williams and freshman Trey Holly to move the sticks – with the big play coming on a Williams catch-and-run fo 18 yards on third down.
Daniels had a pair of incompletions before hitting Taylor for a first down on an 11-yard grab. Three plays later, Daniels rushed it in from 14 yards out to give LSU the lead.
LSU 14, Georgia State 7 – 0:07 remaining in first quarter
SECOND QUARTER
Georgia State opened the second quarter as the offense did the first quarter – with a quick touchdown.
After a pass for 11-yards on LSU linebacker Omar Speights and a 21-yard completion on Stamps, the GSU offense was back across midfield.
Two plays later, running back Marcus Carroll took the handoff 44 yards for the touchdown to tie the game.
LSU 14, Georgia State 14 – 12:45 remaining in second quarter
Daniels opened the drive with an incompletion to wide receiver Chris Hilton Jr., but on second down he found Malik Nabers for a 33-yard catch that put the ball at midfield.
Another catch by Nabers and a run by freshman Kaleb Jackson moved the chains, Nabers hit Taylor for a 9-yard gain before finding wide receiver Kyren Lacy for the 27-yard touchdown strike.
After three drives, Daniels – who is looking to boost his numbers in the Heisman Trophy race – was 12-for-16 passing for 167 yards and two touchdowns with three carries for 52 yards and a touchdown, putting him over 200 all-purpose yards and three touchdowns after the opening three possessions.
LSU 21, Georgia State 14 – 10:00 remaining in second quarter
On the fourth drive for Georgia State's offense, LSU's defense bent but didn't break.
GSU went 45 yards in 11 plays before facing a 4th-and-7 from the LSU 30-yard line, and the pass went incomplete to give LSU's offense the ball.
One play later, Daniels hit Brian Thomas Jr. for a 70-yard touchdown to push the lead to double-digits ahead of halftime.
LSU 28, Georgia State 14 – 2:26 remaining in second quarter
The LSU defense forced GSU into 3rd-and-13 and called a timeout with 1:17 remaining in the half, and GSU's pass came up a yard short of the sticks.
The Tigers called another timeout, and after GSU attempted to draw the defense offsides before taking a delay of game, LSU was able to force a punt with 1:08 remaining until halftime.
LSU has returned two punts in 10 games. In the 11th game, walk-on Javen Nicholas – the upback on special teams – has two returns in one half, this time catching the short punt before being quickly hit by the GSU special teams unit.
LSU wide receiver Aaron Anderson was quickly given a pass interference call on second down that moved the chains, and Daniels followed it up by finding Lacy for a 32-yard gain.
A false start from inside the 10-yard line with 26 seconds remaining forced LSU into the team's final timeout to avoid a 10-second run-off of the clock.
From there, Daniels went back to Lacy for another touchdown – this time from 13 yards out – to put the Tigers up by 21 points before halftime.
LSU 35, Georgia State 14 – 0:23 remaining until halftime
Georgia State wasn't able to find anything across the final 23 seconds, giving the Tigers the 35-14 lead headed into halftime.
LSU had five drives in the first half, and the Tigers scored a touchdown on all five possessions.
Daniels was 15-for-19 passing for 282 yards and four touchdowns, adding 57 yards and a touchdown on four carries to put his total at 339 yards and five touchdowns across two quarters.
HALFTIME: LSU 35, Georgia State 14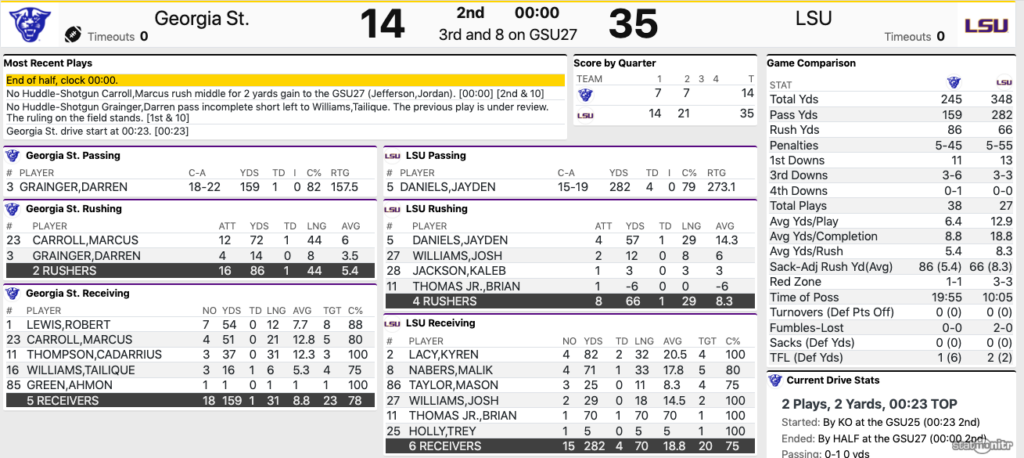 THIRD QUARTER
LSU got the ball first in the second half, and Jayden Daniels and the Tigers kept the touchdown run rolling.
Six possessions. Six touchdowns.
After LSU moved the chains twice, Daniels took off running for a 14-yard gain. From there, Daniels hit Nabers for a first down before running back Noah Cain turned in an impressive 20-yard run to get the ball to the 3-yard line.
The Tigers went play-action pass and Daniels found backup tight end Mac Markway for his first touchdown of the season.
LSU 42, Georgia State 14 – 11:00 remaining in third quarter
For the second time in the game, Georgia State's offense went on an 11-play drive that resulted in a turnover.
This time, the GSU offense moved the ball to LSU's 38-yard line for a first down, but only gained four yards on the next four plays as the Tigers forced another turnover on downs.
On the second snap for LSU, Daniels officially hit the "3K-1K Club" for the season. He entered the week with 3,000+ yards passing in 10 games. In his 11th game, Daniels has now surpassed 1,000 yards rushing.
Daniels then hit Lacy for a 19-yard gain and Thomas for a 15-yard gain to put LSU in the red zone, and three straight runs set up a 4th-and-1 and the 1-yard line as time expired on the third quarter.
FOURTH QUARTER
The Tigers, facing 4th-and-1 from the 1-yard line, called a bootleg to get Daniels another touchdown, but a horse collar call brought him down just short of the end zone.
The play resulted in a penalty and first down for LSU, and the Tigers went quarterback sneak on the next play.
Daniels scored, giving him seven touchdowns on seven drives as the fourth quarter began.
Daniels was 22-for-26 passing for 349 yards and five touchdowns to go along with 10 rushes for 96 yards and two touchdowns.
LSU 49, Georgia State 14 – 14:44 remaining in fourth quarter
The Georgia State offense was able to convert one third down, but the LSU defense stayed strong and forced a punt after just six snaps.
With LSU ahead 49-14 with more than 10 minutes remaining in the half, Daniels remained in the game – and he delivered a final touchdown drive to go perfect on possessions on the night.
This time, Daniels went deep to his main target on the season in Nabers, who hauled in an impressive grab from 40 yards out for the touchdown.
Now, with his night complete, Daniels hit 509 total yards and eight touchdowns, while Nabers had caught eight of nine targets for 140 yards and two touchdowns.
LSU 56, Georgia State 14 – 8:59 remaining in fourth quarter
The final nine minutes didn't bring much action. After another Grambling State drive went nine drives and 61 yards, the defense made one final stop to force another turnover on downs and keep the GSU offense to just 14 points.
The defense didn't allow any points after the 12-minute mark in the second quarter.
LSU backup quarterback Garrett Nussmeier stepped in to finish off the game, which was made up of five rushes by true freshmen running backs Trey Holly and Kaleb Jackson.
With the win, LSU moved to 8-3 with one regular season game remaining. The Tigers are set to host Texas A&M next Saturday at 11 a.m. CT.
FINAL: LSU 56, Georgia State 14