Preview: LSU Basketball goes on the road to face No. 14 Arkansas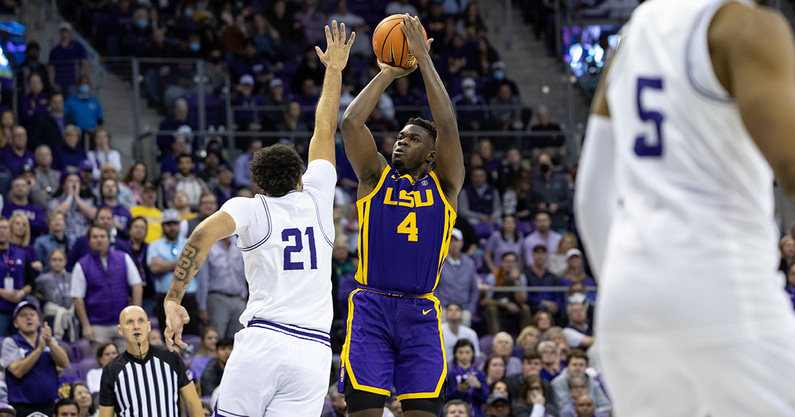 The calendar has officially turned to March as LSU Basketball enters its last week of the regular season, starting with a game in Fayetteville against Arkansas on Wednesday.
LSU has two tough games to end the regular season against Arkansas and Alabama, but this matchup against the Razorbacks is arguably one of LSU toughest of the season. Arkansas comes into this game fresh off a big win over Kentucky and on a four-game winning streak. Bud Walton Arena has also become one of the toughest places to play in America, making this game all the more challenging.
LSU Basketball faced off against Arkansas earlier in the season, a game in which Arkansas won 65-58 and was the beginning of a very poor stretch of games for LSU. The Tigers were missing starting point guard Xavier Pinson in that game. Despite him being back for the rematch, LSU will have its hands full with arguably the hottest team in the SEC right now.
"It will be a huge undertaking going to Bud Walton, it's never easy to win there," Head Coach Will Wade said leading up to the rematch with Arkansas.
Arkansas enters this game with a 23-6 overall record and sits tied for second in the SEC with a conference record of 12-4. The Razorbacks have only lost one home game all season, beating the likes of Auburn, Tennessee and Kentucky inside Bud Walton Arena. Arkansas is led by SEC second-leading scorer JD Notae, who averages 19.1 PPG and has grown into one of the best players in the conference. He scored 19 points the first time these two teams played and is a matchup problem for just about any team. Jaylin Williams is another player from Arkansas who probably doesn't get talked about enough. Williams averages 10.6 PPG and leads the team averaging 9.7 RPG and has tallied six straight double-doubles. Williams a has also become known for efforts on the defensive end, becoming notorious as one of the best in the country at drawing charges.
How LSU Basketball matches up with Arkansas
Jaylin Williams' play style is a good representation about how this Arkansas team plays as a whole. The Razorbacks are one of the best defensive teams in the conference, ranking fourth in the conference and 14th in the country in adjusted defensive efficiency. Arkansas protects the ball very well too, only averaging 12.4 turnovers per game, ranking third best in the SEC. The Razorbacks are solid on the glass as well which killed LSU down the stretch in the first matchup. Arkansas outrebounded LSU 41-31 which is something that LSU Basketball cannot afford to have happen in order to have a chance to win on the road.
Overall, this will be a tough one for LSU with how Arkansas plays defensively and on the glass. Xavier Pinson will be playing for LSU this time, but it is going to take a lot to break down this Arkansas team. The way Arkansas defends gave LSU a host of problems in the first matchup, especially in the second half. The Tigers were held to just 25 second half points and shot just 8-25 in the final 20 minutes.
LSU Basketball will have to do a better job creating offense and quite simply make shots. Finishing around the rim has been an issue for LSU at times during SEC and that is something that cannot happen in this game. LSU will have to be efficient offensively, and if it can do that, the Tigers are solid enough defensively to stay in it.
LSU is coming off a 75-55 win over Missouri. Tip-off against the Razorbacks is set for 8 p.m. CT on ESPN2.