Rush leads Michigan State to 6-4 victory over Rutgers at Big Ten baseball tournament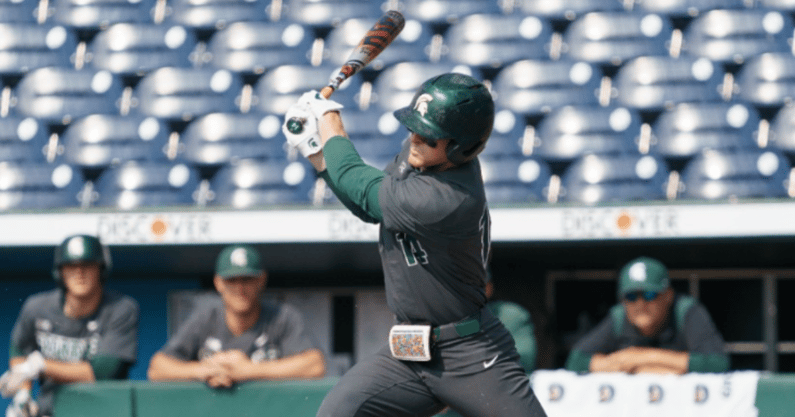 With its season on the line, No. 8 seed Michigan State gave the ball to closer Wyatt Rush in the fifth inning and the senior right-hander delivered, throwing a career-high 75 pitches in a 6-4 victory over No. 5 seed Rutgers in a Thursday afternoon victory in an elimination game at the Big Ten baseball Tournament at Charles Schwab Field in Omaha, Neb.
"I'm not going to lie, it hurts a little bit, but we'll be alright" said Rush of his arm after the game. "We have such a great defense behind me, all I've got do is throw it over the middle of the plate, and they are going to pick it up, catch it, throw the guy out, whatever they've got to do. These guys are phenomenal. I'm just so proud of this group."
Rush, who averages 30 pitches per appearance, threw more than double his average volume in the match-up with Rutgers.
First baseman Brock Vradenburg went 2-for-3 with a double and two RBI to lead Michigan State in hitting. Vradenburg also drew a bases loaded walk in the eighth inning to give Michigan State a two run cushion. Shortstop Mitch Jebb went 3-for-4 with a double and drove in one run.
With the win, Michigan State advances to play the winner of No. 4 seed Nebraska and No. 1 seed Maryland on Friday night at 8 pm on BTN. The Spartans lost to Maryland 3-2 in the opening game of the double-elimination tournament.
Rush came into the game with score tied 3-3 in the fifth inning. He was the fourth Michigan State pitcher of the inning. Rush gave up a one-out sacrifice-fly with the bases loaded as Rutgers pulled ahead for the first in the match-up between the No. 8 seed Spartans and No. 5 seed Scarlett Knights.
Rush did not allow another run over the next four innings, yielding just three hits with four strikeouts. Rutgers did, however, manage to get the tying and go-ahead run on in the ninth inning, as lead-off hitter Ryan Lasko was hit by a pitch, and No. 3 hitter Evan Sleight reach base on a walk.
With Rutgers' base runners at first and second with one out, Rush forced a fly-out, and ground out to secure the victory.
After giving up the lead in the bottom of the fifth, Michigan State tied the game 4-4 in the top of the sixth inning on a base hit by centerfielder Greg Zeigler, driving in Casey Mayes, who reached on a bunt single and advanced to second a on a throwing error on the same play.
Michigan State scored two runs in the eighth inning to take a 6-4 lead, as first baseman Vradenburg and Jebb both drew bases-loaded walks.
Michigan State took a 3-1 lead in the top of the fifth inning on a one-out single to right field by Vradenburg, but Rutgers stormed back in the bottom half of the inning with a bases-loaded walk and hit by pitch on the next batter. Rutgers took its first lead of the game on a sacrifice fly off against Rush.
Michigan State had not won a game at the Big Ten baseball tournament since 2016 prior to Thursday's win over Rutgers.