Chris Long pushes back against Aidan Hutchinson comparison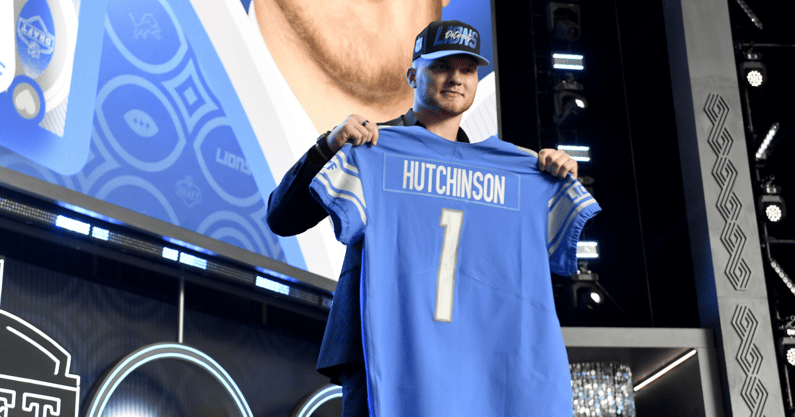 Former Michigan Wolverines EDGE rusher Aidan Hutchinson stayed home when the Detroit Lions took him with the No. 2 overall pick in the 2022 NFL Draft. In the aftermath of Hutchinson's selection, there are still plenty of people weighing in on the process.
General manager Brad Holmes recently spoke on The Rich Eisen Show about what he saw in Hutchinson and compared him to former NFL EDGE Chris Long at first glance. Long was the No. 2 overall pick of the St. Louis Rams in the 2008 NFL Draft and gathered 70 career sacks in nine NFL seasons.
"The first time I saw Aidan, really, was back in 2020, when I was still with the Rams," Holmes said. "He was kind of playing a different position. He was kind of playing more of an interior role. … When I first saw him, he reminded me of Chris Long a little bit."
Long was on Eisen's show not too long after Holmes appeared and pushed back against the comparison between he and Hutchinson.
"Brad Holmes is the one who broke me down and Aidan down," Long said. "And, if that's the comp, so be it. I guess good for him. Some people would say not good for him. When you draft Aidan Hutchinson, the reason they're comparing Aidan Hutchinson to me is I hear the word 'safe' a lot. Like the upside isn't there.
"The thing I think people like about Hutchinson, and maybe a reason that Brad might compare us, is I was a 3-4 defensive end at Virginia, and it took me a year and a half to figure out how to play on an edge," Long said. "But, on the good side of that, in the prime of my career, I played in a 4-high, in Gregg Williams' defense. So, you know, you can do a lot of stuff with Aidan Hutchinson."
Detroit Lions coach shares early thoughts on Aidan Hutchinson
"As you guys all know, we couldn't get the call in fast enough once we knew (Jacksonville) didn't take Aidan Hutchinson," Campbell said during the team's rookie minicamp. "It worked out great; it was perfect. He's a perfect fit for us. I mean, he really is everything that we're about and he matches us perfectly and I've said this before, but it just so happened to be that he was in the backyard.
"It wasn't because of that, but that's icing on the cake there, that he was right down the road. I just feel like it was meant to be. He belongs here. When you're going to pick guys they better fit everything that you're about, and he does that."
Hutchinson, who played in 43 career games at Michigan, was a Consensus All-American in 2021 and a two-time All-Big Ten honoree. Hutchinson, a two-time captain, is the program record-holder for sacks in a single season, notching 14 for the Wolverines in 2021. He will wear No. 97 with the Lions.
Hutchinson is set to be one of the building blocks on a young defense looking to come into its own in the Motor City. It carries a little more weight to the Plymouth native and former Michigan star to help get the Lions on track.
"I definitely feel inspired to get this team going again," Hutchinson said. "But again, it's not just me. It's going to be a group effort. It's going to take all the guys on this team to get this team back to winning. If I can be a piece of that, I'd love to.
"I think we definitely have the right people in place to start winning some ball games. It's a great vibe here right now. I can't wait until all the vets get here and we all start getting after it as a team."