Michigan basketball signee Jett Howard seems ready to take off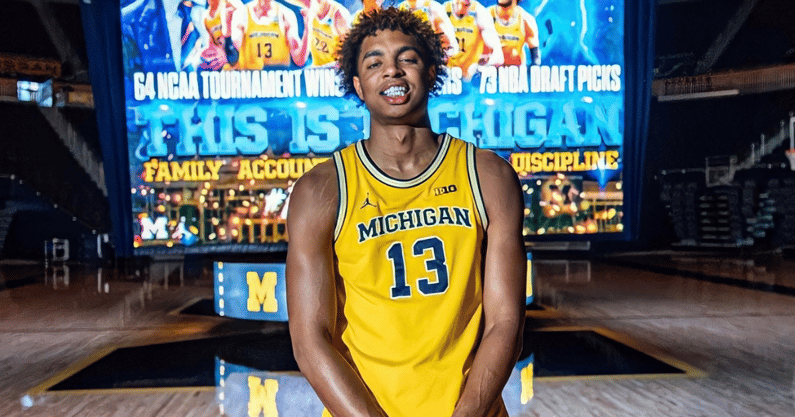 It's a well-known fact that preps good enough to play for their fathers' Division I programs usually do, Michigan or otherwise, no matter how big or small. Aubrey Dawkins left Michigan to play for his dad's UCF team several years ago, while more recently, Patrick Baldwin Jr. went to play for his dad at Wisconsin-Milwaukee. 
Junior-to-be Jace Howard, too, was a no-brainer for the Wolverines when his dad asked him to join him at Michigan.
RELATED:  Michigan big man Moussa Diabate appears closer to NBA ready
But Juwan Howard said he had to sweat a little bit when it came time for decision day with youngest son Jett Howard. What seemed to be a foregone conclusion became a true recruiting battle, the Michigan head coach insisted, when Tennessee's Rick Barnes turned up the heat. 
"I couldn't come there as arrogant and saying, 'Hey, this is family. Family's got to stick with family,'" Juwan Howard said before Michigan faced the Volunteers in the NCAA Tournament. "I still wanted my son to choose his school that he felt was best for his college future, because I've already had mine. It's about him, and I wanted him to enjoy the recruiting experience because he deserved it. He earned that right."
And he took it. He visited N.C. State, considered Georgetown and others. And when he visited Knoxville, he became more conflicted than expected.
"Tennessee being a great program, I left impressed with them, too. But my wife was too damn happy about Tennessee," the Michigan coach said with a laugh. "And Jett was excited about the program and what they had to offer for his development, and he was truly impressed with Coach Barnes."
He might have even been leaning to Tennessee, his dad said, at least for a moment. 
But when it came down to it, Jett's heart was in Ann Arbor — and at Michigan — with his family.
Another Howard at Michigan
His addition will mark the official end of a prep career that's come full circle, culminating with his MVP performance at the early May Iverson Classic in Memphis, Tenn. The future Michigan wing shared the honor with Keyonte George, a Baylor signee, after scoring 20 points on 9-for-12 shooting with several different moves. 
One of his biggest came when the game was still in doubt tied at 99. His floater broke the tie and spurred the run that helped lead his team to a 120-110 win, impressing former NBA star Allen Iverson.
"He has everything that it takes to be a superstar on every single level," Iverson said on the CBS Sports broadcast. "It comes so naturally to him … so easy to him.
"He's the most pro-ready right now," analyst J.R. Smith added.
Whether that's true remains to be seen. But On3.com's consensus No. 36 player nationally has his eyes set on only one place as of right now …
Ann Arbor, Mich.
"It was just fun," Howard said of the all-star experience. "I just tried to have the most fun with it — listen to my coaches and play hard. 
"But I can't wait to get to work and build some camaraderie with my [Michigan] teammates. I just can't wait to get to Ann Arbor and win."
He'll get his chance soon enough. 
Ready for takeoff
The 6-7, 215-pounder has continued to improve, and he's put himself in the conversation as a future pro. He's not there yet, On3.com's Jamie Shaw said, but he has the potential to play at that level if he continues to work. 
"He's going to have to have a lot of things break right for him, but he's got the frame and the lineage, the name and Michigan, which is a high-profile school," Shaw said. "He'll probably end up on draft boards, but I don't think he's a can't miss NBA guy. But I do think he's a hell of a high major player. He's the kind you need to win championships with."
Michigan envisions him as a shooting guard and a wing. Shaw thinks he'd be better — for now — as a wing and power forward.
"He's a pure three, but maybe even a little bit of four," he said. "I know Juwan likes to play big, but if he ever wanted to go four out one or five out [on offense], I think Jett could possibly play the four. He's a big, strong, long-framed kid."
The lateral movement would need to improve to play guard, Shaw said, and that could always improve. Michigan strength coach Jon Sanderson has a way of loosening the hips, too, and will help him prepare. 
Wherever he plays, though, he'll likely help not only on the court, but off. He's a lot like his brother in that respect, Martelli said. 
"They're just good human beings, good young guys," he said. "It's a great gym. Forget the team. It's great going to a gym and there's happiness … not sullen, and they play with joy."
A group, thanks in part to three Howards now, he can't wait to help coach at Michigan.