LOOK: Jaelin Llewellyn ready for Ann Arbor after Princeton graduation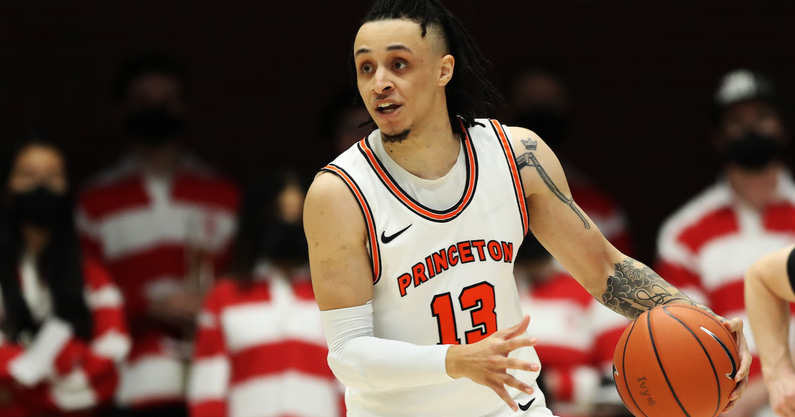 Michigan has a new point guard on the roster in transfer Jaelin Llewellyn. However, he did have some business to tend to before suiting up for the Maize and Blue this upcoming season.
Llewellyn, who transferred into Michigan last month, graduated from Princeton on Tuesday and reflected on the moment before turning his attention to Ann Arbor.
"Graduated from Princeton University today alongside my best friends — with my family, more friends and coaches in attendance," Llewellyn tweeted on Tuesday. "Been a good day. Next stop… Ann Arbor."
Llewellyn (6-2, 185) was seeking a new opportunity given the Ivy League's athletic eligibility extends only to undergrad students. This is what led to Michigan landing Mike Smith from Columbia two offseasons ago.
Llewellyn was a four-star recruit and top-100 prospect during his high school career, per ESPN. The Mississauga, Ontario native was North Pole Hoops' No. 5 Canadian prospect and top point guard in the class of 2018.
He had a decorated career at Princeton, joining the program's 1,000-point club this past season. Llewellyn was First Team All-Ivy League in 2022, averaging 15.7 points, 4.1 rebounds and 2.5 assists per game while shooting 44.7% from the field. His three-point shooting increased every season at Princeton, which peaked this year at 38.6% from distance. Llewellin started all 76 games he played in his career with the Tigers. Princeton finished first in the Ivy League in the regular season and had a 23-7 record overall.
Llewellyn projects to start at point guard for the Wolverines this upcoming season. He has two years of eligibility remaining.
How Jaelin Llewellyn fits at Michigan
On3.com's Jamie Shaw recently took a look at five transfers that made perfect sense across college basketball, where Michigan's newest addition cracked the list.
"Jaelin Llewellyn finished first-team All-Ivy League last season and finished top five in the league in points and field goal percentage," Shaw said. "Michigan brought in DeVante' Jones from the transfer portal last season. He started the season slow and ended up very solid. Llewellyn carries the same traits that Jones did; aggression and confidence.
"Llewellyn was one of two Ivy League players with a usage percentage over 25 and an offensive rating over 109 last season. He also added 64 threes at a 38.4-percent clip. Howard seems to prefer headstrong point guards who can create; Llewellyn fits that mold."
"It is not hard to draw a parallel between Smith and Llewellyn," we wrote in a profile after his commitment. "Both were scorers at the Ivy League level and would have to transform into better distributors of the basketball in Big Ten play. Smith was much more of an offensive focal point at Columbia than Llewellyn was."
Michigan is at the roster limit of 13 scholarships for the 2022-23 season. Forwards Caleb Houstan and Moussa Diabate are in the NBA Draft process and have until June 1 to make a final decision. Both have been trending towards staying pro, which would open up two scholarship spots.