No 'moral victory,' but a positive step in Michigan basketball's loss at Illinois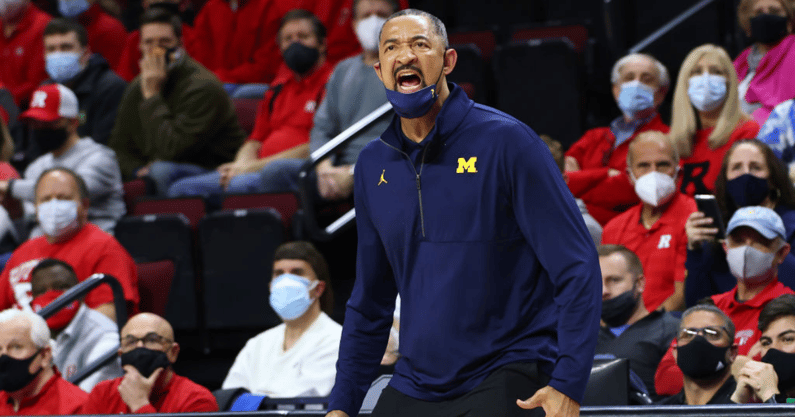 Heading into the season, nobody would have looked at a Michigan 68-53 loss at Illinois but anything as a failure. The Wolverines were expected to compete for a Big Ten title — instead, they're 7-7 and in danger of missing the NCAA Tournament.
RELATED
Shorthanded Michigan loses to Illinois
But given the circumstances, head coach Juwan Howard was pleased with his team's effort in Champaign. Michigan trailed by one with seven minutes remaining when point guard DeVante' Jones' lay-up somehow rimmed out. Otherwise, Michigan would have had a lead down the stretch against one of the Big Ten's better teams.
Howard pieced together a team that battled from start to finish without center Hunter Dickinson and forward Brandon Johns. Michigan just ran out of gas at the end after giving the Illini all they could handle.
Frankly, despite the finish, it was one of the more enjoyable games of the season to watch. The effort was off the charts, something to build on over the next several weeks.
"Obviously, we all are dealing with some very tough times right now with COVID," Howard said. "And I'm just so proud of how our team has faced adversity having this shutdown. … Health is always the most important thing, just playing the game of basketball.
"So with that, we went out and competed, because guys are passionate about competing against their opponents. Going out there and representing this fine institution, the Go Blue and the Block 'M.'"
Michigan point guard DeVante' Jones looked more like the player they expected, aggressive to the rim in scoring 17 points. Freshman center Moussa Diabate looked more comfortable starting at center, even if he was overwhelmed by Illinois center Kofi Cockburn.
And Jace Howard was the pleasant surprise, bringing great defense and energy and finishing plus-10 in his time on the floor.
"I'm always in the trenches with this group, and I'm so damn proud of how they approached these unfortunate circumstances," Howard said. "Trusting me, trusting the staff … then also coming out with passion and fight."
He could have thrown Dickinson and Johns into the fire. But with both recovering from COVID, he wasn't taking any chances.
"I didn't feel comfortable putting them out there with no practice time," Howard said of Dickinson and Johns after the game. "Unfortunately, Brandon actually caught it before Hunter did, and he actually was feeling some symptoms. It was very challenging for him. It took some time.
"Everyone has a different immune systems and I'm not a medical [expert] — I'm not going to explain or break down everything about it — but of course, it's just great to see him in the flesh and there to support his teammates."
A loss is a loss, and the margin for error continues to shrink with each loss. Howard and Michigan found something Friday night, though, that had been lacking.
"Sometimes you deal with the adversity, but you figure it out … you learn from this," Howard said. "I think we learned a lot about who we are. We've got some competitors. 
"… Overall, whether you win games or lose games, there are always good teaching moments. I'm looking at some film tonight, tomorrow, all day and night. What are those areas of how we can get better?"
It starts with getting some guys back, and for a few kids to meet their potential. Freshman Caleb Houstan continues to struggle, and Michigan made only one of 10 triples.
That's not good enough.
But the effort we've been waiting to see was there, and that's where it starts. No matter who is on the floor, that needs to be replicated in every game going forward.